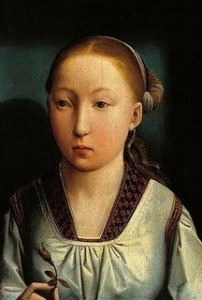 At 5pm on 27th September 1501, fifteen year-old Catherine of Aragon, daughter of Ferdinand II of Aragon and Isabella I of Castile, set sail from the port of Laredo in Spain. Her ship was headed for England and she was due to marry the heir to the English throne, Arthur, Prince of Wales.
It was the party's second attempt at sailing from Spain to England. A storm in the Bay of Biscay had forced the fleet to abandon their voyage in August from A Coruña and take refuge in the port of Laredo. This second attempt was also affected by a violent storm, this time off the coast of Brittany, but the party managed to survive it and landed at Plymouth on 2nd October.
Catherine's journey had started four months earlier when she left her home, Granada's beautiful Alhambra Palace in southern Spain, on 21st May 1501. It was 500 miles from Granada to A Coruña and must have been an arduous journey for a girl who had just recovered from a fever. This journey today takes over ten hours by car today, so I can only imagine what it would have been like in the height of summer on horseback. Poor girl!
Catherine married Arthur, Prince of Wales, on 14th November 1501 at St Paul's Cathedral. You can read all about the wedding in my article A Tale of Two Weddings.