Posted By Claire on September 22, 2013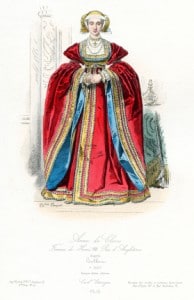 On 22nd September 1515 Anna von Jülich-Kleve-Berg (known in English as Anne of Cleves), was born near Düsseldorf. She was the second daughter of John III, Duke of Jülich, Cleves and Berg, an important German ruler, and Maria of Jülich-Berg. Anne had royal blood; not only was she descended from Edward I, she was also, on her father's side, closely related to Louis XII of France and the Duke of Burgundy.
Anne married Henry VIII on 6th January 1540 in the Queen's Closet at Greenwich Palace. She was his fourth wife, following Jane Seymour who died in October 1537. Henry and Anne's marriage lasted only six months. On the 7th July 1540, a convocation of clergy agreed that "the king and Anne of Cleves were no wise bound by the marriage solemnised between them, and it was decreed to send letters testimonial of this to the king." The invalidity of the marriage was proven by three pieces of evidence:
The betrothal between Anne and Francis of Lorraine
Henry's lack of consent to the marriage
Lack of consummation – Henry declared that "I never for love to the woman consented to marry; nor yet if she brought maidenhead with her, took any from her by true carnal copulation."
On 28th July 1540, Henry VIII married his fifth wife, Catherine Howard. Despite this, Anne went on to have a good relationship with the King, so much so that she even thought that he'd remarry her after Catherine Howard's fall. She also had a good relationship with his three children: Mary, Elizabeth and Edward.
Anne outlived the King and all of his other wives, dying on the 15th July 1557 aged 41.