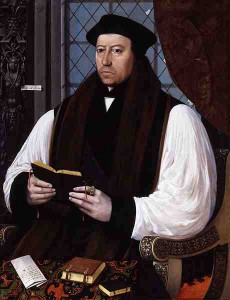 On 27th April 1536, writs were issued summoning Parliament, and a letter was sent to Thomas Cranmer, the Archbishop of Canterbury, asking him to attend Parliament:
"Summons to the archbishop of Canterbury to attend the Parliament which is to meet at Westminster, 8 June; and to warn the prior and chapter of his cathedral and the clergy of his province to be present, the former in person and the latter by two proctors. Westm., 27 April 28 Hen. VIII.
ii. Similar writs to the different bishops, abbots, and lords; to the judges, serjeants-at-law, and the King's attorney, to give counsel; to the sheriffs to elect knights of the shires, citizens, and burgesses; also to the chancellor of the county palatine of Lancaster; to the deputy and council of Calais to elect one burgess, and to the mayor and burgesses to elect another."
Although Anne Boleyn and the five men found guilty of adultery with her were all dead by the 8th June, these writs coming so soon after the setting up of the commissions of oyer and terminer suggests that Parliament was being called in order to deal with issues regarding the Queen, the King's marriage and the succession.
Notes and Sources
LP x. 736
Extract taken from The Fall of Anne Boleyn: A Countdown