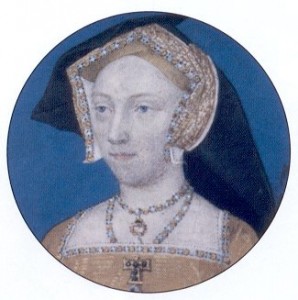 On this day in history, 24th October 1537, just twelve days after providing Henry VIII with his longed-for son and heir, Queen Jane Seymour died at Hampton Court Palace.
Jane had taken to her chamber on 16th September 1537 and went into labour on 9th or 10th October. Contemporary sources suggest that her labour lasted around thirty hours and she finally gave birth to a baby boy, the future Edward VI, at 2am on 12th October 1537. Contrary to myth, her labour did not end with a c-section and she was not sacrificed for her baby – click here to read more on the background to that myth. Jane was well enough to receive visitors to her chambers following her son's christening on 15th October but it appears that she fell ill shortly after that. It is thought that she died of puerperal (childbed) fever, a postpartum infection.
You can read the primary source accounts of Jane's illness and death in my article The Death of Queen Jane Seymour.
Jane Seymour was laid to rest in St George's Chapel, Windsor Castle, on 13th November 1537 with her step-daughter, the Lady Mary, acting as chief mourner. Henry VIII's remains were added to the vault on 16th February 1547, following his death on 28th January 1547. Visitors to the chapel today can see the memorial slab set into the floor marking their resting place. According to legend, her heart was buried in the Chapel Royal of Hampton Court Palace.
You can read more about Jane Seymour in the following articles:
Tudor Society members can enjoy a video talk on Jane Seymour by historian and author Gareth Russell – click here.