23 June 1509 – Henry VIII and Catherine of Aragon process through the streets of London
Posted By Claire on June 23, 2019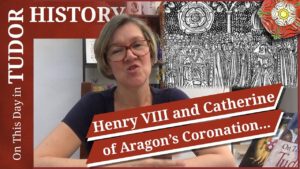 On this day in Tudor history, Saturday 23rd June 1509, seventeen-year-old King Henry VIII and his first wife, twenty-three-year-old Catherine of Aragon, processed from the Tower of London to Westminster in preparation for the coronation at Westminster Abbey.
The citizens of London must have been excited about seeing the new king and his bride, and it was a lavish spectacle with "no lack or scarcity of cloth of tissue, cloth of gold, cloth of silver, broderie, or of goldsmith's works".
In today's "on this day in Tudor history video", I share contemporary descriptions of the procession and the king and queen themselves.
I'm doing these videos on a daily basis for the Anne Boleyn Files and Tudor Society Channel, so do head on over to the channel to catch up or to have a browse. There is also a playlist on "Questions about Anne Boleyn". Please do consider subscribing to the channel too as it helps other Tudor history lovers find my videos – click here – thank you!