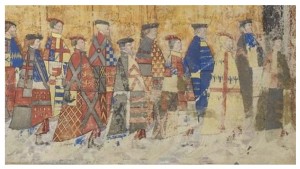 23rd April is St George's and is the day for announcing new appointments to the Order of the Garter, the highest order of chivalry in England.
Back in 1536, George Boleyn, Lord Rochford and brother of Queen Anne Boleyn, was expected to be appointed to the Order. He had been nominated in 1535 and had received a reasonable amount of support, but James V of Scotland had beaten him by two votes.1 Unfortunately for George, he was to miss out in 1536 too with the honour going to Nicholas Carew, a known opponent of the Boleyns and the man who was said to be coaching Jane Seymour on how to behave with the King.2 Carew beat George soundly, receiving twice as many votes, and even Thomas Boleyn had voted for him.3 "The next day, after mass for the dead, the King declared Sir Nic. Carew elected."4
Although some historians see Carew's appointment as a snub to George and the Queen, that may well be reading too much into what happened. While it may well be seen as a sign that the Boleyns were losing their influence, it is only with hindsight, knowing what was to happen to George the following month, that we intepret this appointment as the beginning of the end for George. As I have pointed out in previous articles, the choice was at least in part dictated by the King's earlier promise to Francis I that Carew was next in line for an appointment to the Order. This promise is referred to in a 1535 letter from Palamedes Gontier, secretary to Philippe de Chabot, Admiral of France. Gontier had written to his master in February 1535 explaining that he had seen Henry VIII and "Presented the letter in favor of the "Grand Escuyer" of England [Nicholas Carew], to which he replied that the said place of the Chancellor of the Order was filled by the king of Scotland, and the number of 24 could not be excceded. On the first vacancy he would remember the said Grand Escuyer."5 Francis I had been favouring an appointment for Carew since at least 1533.6
Having researched the voting for appointments to the Order of the Garter, I can say that Knights appear to have voted for men the King wanted them to vote for. In 1536, quite a few knights voted for both Carew and George Boleyn, as they were in different categories due to their status. Each knight could cast 9 votes: 3 "Principes", 3 "Barones" and 3 "Equites". It wasn't a case of Thomas Boleyn voting against his son, he just didn't vote for him. Thomas voted for Delaware, Cobham and Powys as Barons and Carew, Browne and Cheyney as Equites (knights). The Dukes of Norfolk and Richmond voted for both men, as did the Earls of Sussex and Oxford, and William Fitzwilliam.
Here's an explanation of how knights were chosen:
"Whenever a vacancy existed an election was held to select a new member, normally at the annual meeting or chapter on St. George's Day, 23 April, at St. George's Chapel, Windsor Castle. Each KG [Knight of the Garter] present voted for nine men, three in each of the following categories: 'princes', 'barons', and 'knights'. 'Princes' means earls, marquesses, dukes, and royalty (or, earls and above), while 'barons' and 'knights' are self explanatory. A viscount, who ranks between an earl and a baron, could be nominated under either category, 'prince' or 'baron'. In Queen Elizabeth I's reign, the heir to an earl or above could be nominated under his courtesy title, while a duke's younger son could be nominated as a 'baron'. If ten Knights of the Garter were present at a given election, with each KG listing nine nominees, then as many as ninety names could be listed, though the more likely result would be about twenty. Then the votes were tallied and presented to the Queen, who picked whomever she pleased or no one at all."7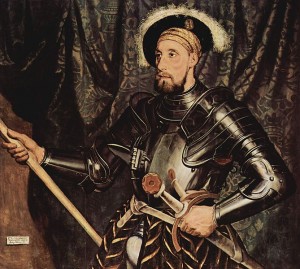 The explanation is with reference to Elizabeth I's reign, but it worked the same in Henry VIII's. The King could see by the votes who was popular, but he still chose whoever he wanted. Hence, Henry VIII could still have chosen George Boleyn even though Carew had proved more popular.
Eustace Chapuys, the imperial ambassador, recorded that "the Concubine has not had sufficient influence to get it for her brother", so he definitely read Carew's appointment as a sign that the Queen's power was waning.8 Whatever the truth of the matter, it must have been humiliating for George to have his name put forward for voting and then see a Boleyn opponent win the vote and get chosen by the King.
Nicholas Carew, the knight appointed that year, was a royal favourite until his arrest on 31st December 1538. He was implicated in a plot to depose Henry VIII and to replace him with Henry Courtenay, 1st Marquess of Exeter and cousin of the King through his mother Catherine of York. Carew was tried on 14th February 1539 and executed on 8th March on Tower Hill.
Click here to read more about the Order of the Garter. 23rd April is still the traditional day for new appointments to the Order to be announced. The installation ceremonies then take place in June, on Garter Day which is the Monday of Royal Ascot week. Back in 1536, Nicholas Carew was installed on 21st May at the annual Order feast, just four days after George's execution.
Notes and Sources
The Register of the Most Noble Order of the Garter (The Black Book), 394–395.
LP x. 715, 752 (Letters and Papers, Foreign and Domestic, Henry VIII).
The Register of the Most Noble Order of the Garter (The Black Book), 399-401
LP x. 715.
LP viii. 174.
On 29 May 1533, Francis I stated that he had written to Henry VIII "in favor of Maestre Carro, his grand escuyer." LP vi. 555.
The Earl of Oxford and the Order of the Garter, Peter R. Moore, viewed online at http://www.shakespeareoxfordfellowship.org/oxford-and-order-of-the-garter/
LP x. 752.