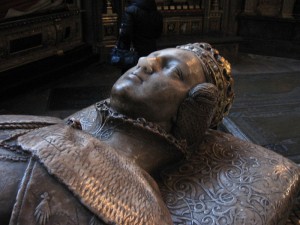 On this day in history, 21st November 1559, Frances Brandon, Duchess of Suffolk, died at Richmond. She was buried in St Edmund's Chapel, Westminster Abbey, on the orders of her cousin, Queen Elizabeth I, and her second husband, Adrian Stokes, erected a tomb in her memory.
Here are some facts about Frances:-
She was born on the 16th July 1517 at Hatfield
Frances was the eldest daughter of Charles Brandon, Duke of Suffolk, and his third wife Mary Tudor, Queen of France
She was born on St Francis's Day
"Lady Boleyn and Lady Elizabeth Grey" acted as proxies for Catherine of Aragon and Princess Mary at Frances's christening at Hatfield on the 18th July – Some believe the mystery "Lady Boleyn" to be Anne Boleyn's aunt,also named Anne Boleyn, and others believe it to be Elizabeth Boleyn, mother of the future Queen Anne Boleyn
Frances married Henry Grey, Marquess of Dorset, at Suffolk House, Southwark, around May 1533
Frances's mother, Mary, died in June 1533 and Frances acted as chief mourner
Her father, Charles Brandon, married his ward, Katherine Willoughby de Eresby, in September 1533
Frances's first two children, a son and a daughter died in infancy
Frances had three surviving daughters with her first husband, Henry Grey: Lady Jane Grey, Lady Catherine Grey and Lady Mary Grey
She was with her father when he died on 24th August 1545
Frances attended Queen Catherine Parr
Her daughter, Lady Jane Grey, became Thomas Seymour's ward and lived with him and his wife, Catherine Parr, for a time.
Frances has often been portrayed as an overly harsh mother after John Aylmer wrote of how Lady Jane Grey had complained of her parents' treatment of her and their correction of her with "pinches, nips and bobs"
Frances became the Duchess of Suffolk in 1551 when her husband was made Duke of Suffolk on 11th October following the deaths of Frances's half-brothers that summer
In May 1553, Frances's eldest daughter, Jane, married the Duke of Northumberland's son, Guildford Dudley
After the death of Edward VI on 6th July 1553 Lady Jane Grey was proclaimed queen after she had been named heir in Edward's "Devise"
Frances and her husband were imprisoned in the Tower of London, following Mary I's overthrowing of Jane's short rule, but were released on the 31st July 1553
Following Henry Grey's involvement in Wyatt's Rebellion, his and Frances's daughter, Lady Jane Grey, was executed on the 12th February 1554 and Grey was executed on the 23rd February
Frances married Adrian Stokes, master of her horse, on 1st March 1555 and Mary I allowed the couple to reside at Richmond
Frances gave birth to a daughter in July 1555 but she died in February 1556
Frances was seriously ill by the beginning of November 1559 and drew up her will on 7th November
She died on the 21st November 1559
Frances is buried in Westminster Abbey and her tomb, erected by Stokes, has an effigy of her on it.
Trivia: According to Retha Warnicke, Frances's funeral was "the first Protestant service at the abbey after the reconstitution of its chapter by the queen."
Author Susan Higginbotham has written some excellent articles on Frances and the Grey family on her blog "History Refreshed" – click here to browse them.
Notes and Sources
Retha M. Warnicke, 'Grey, Frances, duchess of Suffolk (1517–1559)', Oxford Dictionary of National Biography, Oxford University Press, 2004; online edn, Jan 2008