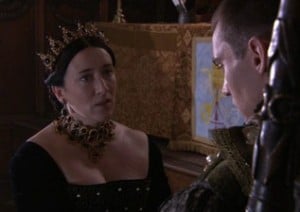 On this day in history, 21st June 1529, Henry VIII and Catherine of Aragon appeared in front of Cardinals Wolsey and Campeggio at the Legatine Court at Blackfriars.
Cardinal Wolsey's biographer and gentleman usher, George Cavendish, describes how the King sat under a cloth of estate and Catherine "sat some distance beneath the king". Also present were the Cardinals Wolsey and Campeggio as judges, Stephen Gardiner as "scribe", the Archbishop of Canterbury (William Warham), Richard Sampson and Thomas Abel as counsellors for the King, and John Fisher (Bishop of Rochester) and Cuthbert Tunstall (Bishop of St Asaph) as counsellors for the Queen. Cavendish commented on what an extraordinary event this hearing was:
"Which was the strangest and newest sight and device that ever was read or heard in any history or chronicle in any region; that a king and a queen [should] be convented and constrained by process compellatory to appear in any court as common persons, within their own realm or dominion, to abide the judgment and decrees of their own subjects, having the royal diadem and prerogative thereof."
And put it down to the King's "carnal desire and voluptuous affection of foolish love."
You can read more about what happened that day and the speech that Catherine made, which David Starkey calls "the speech of her life", in my article 21 June 1529 – And to God I commit my cause!.
Also on this day in history…
1494 – Birth of George Cavendish, Cardinal Wolsey's Gentleman Usher. Cavendish wrote a biography of Wolsey, "The Life and Death of Cardinal Wolsey", and a collection of tragic poems, "Metrical Visions". His poetry and biography are widely used by Tudor historians as primary sources.
1529 – Death of John Skelton, poet, clergyman and former tutor to Henry VIII when he was prince, at Westminster. He was buried in St Margaret's, Westminster. His works included "Garlande of Laurell" and "The Boke of Phyllyp Sparowe".
1553 – Letters patent issued changing Edward VI's heir from his half-sister, Mary, to Lady Jane Grey. Click here to read more about this.