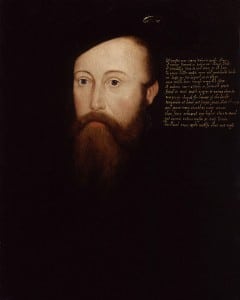 On this day in 1549 Thomas Seymour, 1st Baron of Sudeley, Lord High Admiral and the fourth husband of the late Dowager Queen Catherine Parr, was executed on Tower Hill. He had been found guilty of thirty-three counts of treason following his arrest at Hampton Court Palace when he had allegedly broken into his nephew Edward VI's apartments to kidnap him.
In Sir John Harington's Nugae Antiquae collection of orginal papers, in prose and verse appears the following poem said to have been written by Seymour a week before he was beheaded:
Forgetting God to love a king
Hath been my rod, or else nothy'nge
In this frail lyfe being a blaste
Of care and stryfe, til yt be paste.
Yet God did call me in my pryde
Leste I shulde fall and from him slyde.
For whom he loves he muste correcte,
That they may be of his electe.
Then death haste thee, thou shalt me gaine
Immortallie with God to raigne!
Lord! sende the Kinge like years as Noye [Noah],
In governinge this realme in joye;
And, after thys frayl lyfe, such grace,
That in thy blisse he maie find place.1
Harington then goes on to describe Seymour as "an aspiring man" who was "said to have been an excellent master to those knights and gentry who served under him."
You can read more about Thomas Seymour in the following articles:
I have written many articles on Thomas Seymour so do check them out:-
Notes and Sources
Harington, Sir John. (1804) Nugae antiquae, being a miscellaneous collection of original papers, in prose and verse; written during the reigns of Henry VIII. Edward VI. Queen Mary, Elizabeth, and King James, London, Vernor and Hood.