Posted By Claire on June 19, 2012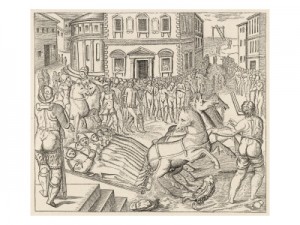 On the 19th June 1535, three Carthusian monks of the London Charterhouse were executed at Tyburn. Sebastian Newdigate, William Exmew and Humphrey Middlemore were hanged, drawn and quartered for refusing to accept King Henry VIII as the Supreme Head of the Church.
They were not the only Carthusian monks to be put to death for denying Henry VIII's supremacy. Eighteen Carthusian monks were put to death between May 1535 and September 1537. Some were hanged, drawn and quartered, some were hanged in chains, and others were starved to death.
You can read more about them in my article from last year – 19 June 1535 – 3 Carthusian Monks Hanged, Drawn and Quartered