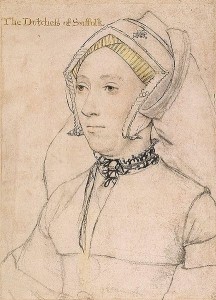 On this day in history, 19th September, Katherine Willoughby, or rather Bertie as she was then, died after a long illness. She was laid to rest at Spilsby Church in Lincolnshire.
Here are some facts about this fascinating Tudor lady:
Katherine was born in 1519 and was the only child of William Willoughby, 11th Baron Willoughby de Eresby, and his wife, Lady Maria de Salinas.
Katherine's mother, Maria, is thought to have accompanied Catherine of Aragon when she came to England in 1501 to marry Prince Arthur and was one of Catherine's great friends. When Maria heard that Catherine was ill in December 1535, she rushed to her side, forcing her way into Kimbolton Castle, and was with Catherine when she died on the 7th January 1536.
Katherine became a ward of Charles Brandon, Duke of Suffolk, in 1529, three years after her father's death.
She married Suffolk in 1533 when she was fourteen years old and the couple had two sons: Henry, born in 1535, and Charles, born in 1537/8.
Suffolk died on 22nd August 1545 at Guildford.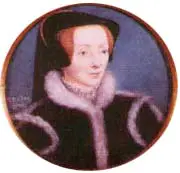 Henry and Charles Brandon died on 14th July 1551 of sweating sickness, with Charles outliving his brother by half and hour. They were buried at Buckden. The Suffolk title passed from Henry to Charles and then to Henry Grey, Marquis of Dorset, Frances Brandon's husband.
Katherine married her gentleman usher, Richard Bertie, c.1552 and had two children by him: Susan, born in 1554, and Peregrine, 13th Baron Willoughby de Eresby, who was born in October 1555.
Katherine was known for her strong Protestant faith and was part of a circle of reformist women who were friends with Catherine Parr, Henry VIII's sixth wife.
Katherine had many reformist and humanist books dedicated to her and was a known Protestant patron. She invited Hugh Latimer to preach at her home and hired Bible translator Miles Coverdale to tutor her children.
She and Bertie went into exile in 1555 when it became clear that she could not support the Catholic Mary I. They returned in 1559, after the accession of Elizabeth I.
Katherine and Richard Bertie have a beautiful alabaster monument at Spilsby Church.