Posted By Claire on June 18, 2014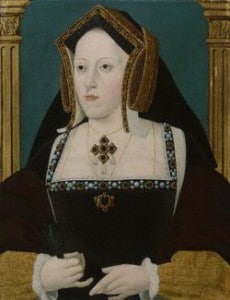 On 31st May 1529, a legatine court had opened at Blackfriars in London following Pope Clement VII's papal bull of April 1528 empowering Cardinal Thomas Wolsey, as the Pope's viceregent, "to take cognisance of all matters concerning the King's divorce" along with Cardinal Lorenzo Campeggio, who had been made papal legate in June 1528.
Campeggio had arrived in London in December 1528, but there had been months of delay due to him not being given full authority to hear the case, really a papal stalling tactic, and negotiations taking place between Campeggio and Catherine of Aragon. Campeggio had tried to convince Catherine to take the veil and retreat to a convent, making the annulment easier, but Catherine refused. Finally, the court opened on 31st May and Catherine and Henry VIII were summoned to appear on Friday 18th June.
Henry VIII sent proxies but Catherine surprised everyone by appearing in person with her ladies and with four bishops, who were to act as her counsel. Catherine then read out the appeal she had lodged in writing on 16th June. Her grounds for appeal were:
That the place was hostile
That the judges were prejudiced, being closely associated to the King
That the court proceedings should not be taking place while the case was still pending at Rome.
After the judges confirmed that her protestation would be answered in proceedings on 21st June, Catherine departed. Catherine was going to fight for her marriage and her position, and that of her daughter. How different things would have been if she had joined a convent.
You can read more about the Legatine Court in my article Cardinal Campeggio and the Legatine Court.
Also on this day in history…
18 June 1546 – Anne Askew, Protestant martyr and poet, was arraigned for heresy at London's Guildhall along with Nicholas Shaxton, Nicholas White and John Hadlam (Adlams or Adams). They were all found guilty and condemned to death. Click here to read more about her.
Notes and Sources
Mattingly, Garrett (1944). Catherine of Aragon, p229-230