Posted By Claire on May 16, 2017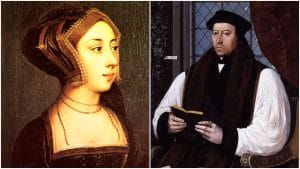 On this day in history, Tuesday 16th May, Sir William Kingston, Constable of the Tower of London, reported to Thomas Cromwell that "this day at dinner the queen said that she should go to a nunnery and is in hope of life."
But the previous day, Anne Boleyn had been sentenced to death for high treason, so how could she now be "in hope of life" and talking about being sent to a convent? What had happened on 16th May to give her such hope.
All we know is that Thomas Cranmer, Archbishop of Canterbury, had visited Anne Boleyn at the Tower that day, having been sent to act as her confessor and to obtain Anne's consent to the annulment of her marriage to Henry VIII. Is it possible that Cranmer had been told to offer Anne the hope of life in exchange for her consent to the annulment? It is possible, but we just don't know. Whatever did happen that day, it did give Anne hope, albeit false hope.
While Anne Boleyn was feeling more hopeful, her brother and the other four men were preparing for their executions which had been scheduled for the next day. Click here to read how the men prepared themselves for death.
Notes and Sources
Cavendish, George, edited by Samuel Weller Singer (1825) The Life of Cardinal Wolsey and Metrical Visions from the Original Autograph Manuscripts, Volume II, p. 228; Letters and Papers, Foreign and Domestic, Henry VIII, Volume X, 890.