15 October 1537 – Edward VI's christening at Hampton Court Palace
Posted By Claire on October 15, 2019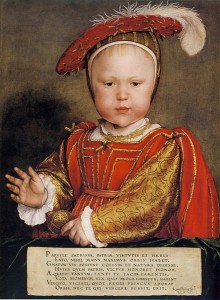 On this day in Tudor history, 15th October 1537, three-day-old Prince Edward (the future King Edward VI), son of King Henry VIII and his third wife, Queen Jane Seymour, was christened in a lavish ceremony in the Chapel Royal at Hampton Court Palace.
In today's "on this day in Tudor history" video, I share a contemporary account of the christening ceremony, including a list of those who played prominent roles. Edward's half-sisters, Mary and Elizabeth, both attended, with Mary standing as godmother and Elizabeth carrying the chrisom cloth. But you'll also recognise lots of other Tudor personalities.
You'll notice that Thomas Boleyn is mentioned and he must have had very mixed feelings about the day. If only his daughter, Anne Boleyn, had given the king a son! Poor poor Thomas had had to come back to court and do his duty as a king's servant, and prove his loyalty, for the good of his surviving family, whatever his personal feelings. At least this ceremony would have given him the opportunity to see his granddaughter, Elizabeth.
Here is my video on the christening:
By the way, if you like my hoodie then you can see t-shirts, hoodies and lots of other things featuring this design in my channel shop at https://teespring.com/on-this-day-in-tudor-history…
I mention the re-enactment of Edward VI's christening done for the documentary "Britain's Tudor Treasure: A Night at Hampton Court". You can see that at https://youtu.be/jjoLrOH6xDQ, or just search for it here on YouTube.
You can find out about Edward's birth in Claire's talk from 12th October – https://youtu.be/sfHi1REWh-I
Please do consider subscribing to my YouTube channel as I am doing daily Tudor history videos at the moment – https://www.youtube.com/AnneBoleynFiles/