15 June 1536 – Mary should be beaten to death
Posted By Claire on June 15, 2017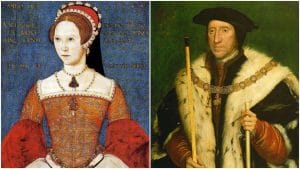 On this day in history, 15th June 1536, a week after she had reached out to her father Henry VIII in a letter, twenty-year-old Mary received a visit at Hunsdon from members of the king's council led by Thomas Howard, 3rd Duke of Norfolk.
Rather than informing her that the king was willing to receive his estranged daughter back at court, Mary was threatened by these men, allegedly being told by one that "Were she his or any other man's daughter, he would beat her to death, or strike her head against the wall until he made it as soft as a boiled apple." Mary must have been incredibly shaken up by this visit and it is little wonder that her dear friend, Eustace Chapuys, the imperial ambassador, feared for her life and was able to persuade her to submit to her father's wishes, recognising the annulment of her parents' marriage and her father's supremacy.
You can click here to read more about the visit and what Chapuys did. Poor, poor Mary.
Also on this day in history…
1519 – The traditional birthdate of Henry Fitzroy, Duke of Richmond and Somerset, and the illegitimate son of Henry VIII. Click here to read more about him.
1560 – The death of William Somer (Sommers), former court fool to Henry VIII, Edward VI and Mary I, in Shoreditch, London. He was buried at St Leonard's Church, Shoreditch. Click here to read more about Somer.