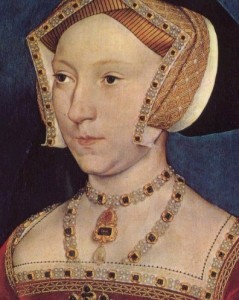 Before I go into details on today's "on this day in history" event in the countdown to Queen Anne Boleyn's execution, let's set the scene…
Queen Anne Boleyn is imprisoned in the Tower of London awaiting trial for high treason; George Boleyn, Lord Rochford, the queen's brother and a royal favourite, is also in the Tower awaiting trial; four courtiers, including the king's groom of the stool, have been tried by a commission of oyer and terminer for high treason, for sleeping with the queen and for plotting to kill the king with her, and sentenced to death; two other men are also imprisoned in the Tower; writs for Parliament have been issued, and the queen's household has been broken up and her staff dismissed. Things are not looking good for the queen and her brother. The queen has no chance of being found innocent at her trial, when four men have been found guilty of plotting with her and having sexual relations with her. Dark times.
But things are on the up for the king. His new sweetheart, his wife's former lady-in-waiting Jane Seymour, had been sent away from court, to Sir Nicholas Carew's country home, to prevent gossip about her relationship with the king, but the king now feels it is appropriate to send for her. Carew is sent to collect Jane and to settle her into a property in Chelsea, within a mile of the king's lodgings. There, she is treated as a queen; she is "most richly dressed" and "splendidly served by the King's cook and other officers". How did Jane feel about this? We will never know. What did those who served her think of the situation? We don't know.
In just sixteen days time, Jane would be Henry VIII's official queen consort.
While Jane Seymour was being collected and brought to Chelsea, the king's right-hand man, Thomas Cromwell, was writing to the king's ambassadors at the French court, Sir John Wallop and Stephen Gardiner, of "The Queen's incontinent living" which "was so rank and common that the ladies of her privy chamber could not conceal it" and the "most detestable scheme, happily discovered". He was, of course, referring to Queen Anne Boleyn. Cromwell was quick to reassure the ambassadors that they would benefit from what was happening and that the king was "highly pleased with the services of both". You can click here to read the full letter.
It all sounds so unsavoury to us, doesn't it? Out with one queen, in with another; the fall of some courtiers, the rise of others… Thomas Wyatt was certainly spot on when he wrote circa regna tonat, "about the throne the thunder rolls".