14 February – The day of love and a prophecy fulfilled
Posted By Claire on February 14, 2016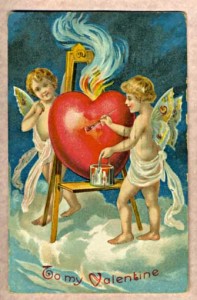 If you haven't got the hint yet – with the shops being full of red roses, teddy bears, chocolates, hearts and roses – today is Valentine's Day, the day of love.
Now, it is not a modern phenomenon – sorry, you can't blame card manufacturers and commercialism – because we know, for example, that medieval and Tudor people did celebrate Valentine's Day and give gifts because it is mentioned in the Paston Letters which date to the 1470s. John Lydgate's 15th century poem, "A Valentine to her that Excelleth All", tells of how it was customary for Englishmen to choose their love on this day: "To look and search Cupid's calendar, And choose their choice, by great affection."
You can find out more about Valentine's Day and read a love letter that Henry VIII sent his sweetheart Anne Boleyn in my article Valentine's Day and a Love Letter from Henry VIII
And now, unfortunately, we move on from love and all things sweet to a really horrible story – sorry! On this day in history, 14th February 1547, a prophecy made by Friar William Peto in 1532 was said to have been filfilled when Henry VIII's coffin, which was resting at Syon on its way to Windsor for burial, leaked putrid liquid which dogs then licked up. Click here to read more about this and the prophecy. Yuck!