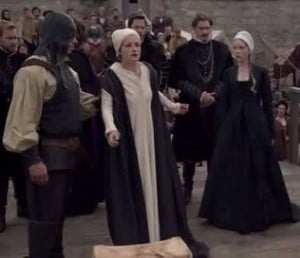 On this day in history, Monday 13th February 1542, Catherine Howard, fifth wife and queen of King Henry VIII, and her lady, Jane Boleyn, Lady Rochford, were executed at the Tower of London after being found guilty of treason by attainder.
An eye-witness, London merchant Otwell Johnson recorded that the two women "made the moost godly and christyan's end" and you can click here to read more about their executions.
But who were these women and what happened?
Jane Boleyn, Lady Rochford, was born Jane Parker in Norfolk in around 1504/5 and was the daughter of Henry Parker, 10th Baron Morley, and Alice St John. Her father had been brought up in the household of Lady Margaret Beaufort and had acted as cupbearer at the coronation of King Henry VIII in 1509. By 1520, when she accompanied the royal couple to the Field of Cloth of Gold, she was serving in Queen Catherine of Aragon's household. In 1522, she played the part of Constancy in the Château Vert Shrovetide pageant, while her future sisters-in-law, Mary and Anne Boleyn, played Kindness and Perseverance.
Jane married George Boleyn, son of Thomas Boleyn and brother of Anne Boleyn, in late 1524/early 1525. It was an arranged marriage, as was normal at the time, and was a good match for both families. The marriage was childless, but there is no evidence to back up the myth that it was an unhappy marriage. In December 1529, George Boleyn took his father's title of Viscount Rochford when his father was elevated to the earldom of Wiltshire, so Jane became Viscountess Rochford or Lady Rochford. In October 1532, she accompanied Henry VIII and the newly elevated Marquess of Pembroke, Anne Boleyn, on their trip to Calais to meet with King Francis I and took part in the masque arranged for the French king. Jane would have served her sister-in-law when she was crowned queen on 1st June 1533.
In autumn 1534, Jane was temporarily banished from court for allegedly plotting with Queen Anne to remove "the young lady whom this king has been accustomed to serve", i.e. a lady who had caught the king's eye, from court. In May 1536, Jane's husband and sister-in-law, George and Anne, were arrested and imprisoned in the Tower of London. Jane sent a letter of comfort to her husband on 4th May 1536 assuring him that she would petition the king on his behalf. However, on 15th May 1536, George and Anne were found guilty of high treason and sentenced to death. George was beheaded on 17th May 1536, and Anne was beheaded on 19th May 1536. George's death brought Jane financial difficulties, and she was forced to ask Thomas Cromwell for help, and it appears that it was down to Cromwell that she was appointed to Queen Jane Seymour's privy chamber. Jane also served Anne of Cleves in 1540 and was one of the ladies who provided evidence regarding the non-consummation of the king's marriage to Anne of Cleves. Following the annulment of the marriage, Henry VIII married Catherine Howard, and Jane moved into her household, acting as the young queen's chief confidant and servant.
Catherine Howard was born c.1522/23 and was the daughter of Lord Edmund Howard, son of Thomas Howard, 2nd Duke of Norfolk, and Edmund's wife, Jocasta (Joyce) Culpeper, widow of Ralph Legh and daughter of Sir Richard Culpeper of Aylesford, Kent. Catherine was brought up in the household of her step-grandmother, Agnes Tilney, Dowager Duchess of Norfolk, based at Chesworth House near Horsham and Norfolk House, Lambeth. At the age of about 13/14, Catherine was involved with Henry Manox, a man who had been employed to teach youngsters of the household the lute and virginals. Although Manox wanted to sleep with Catherine, he got no further than foreplay, before he was replaced in her affections by Francis Dereham, a man in the dowager duchess's service. Dereham and Catherine had a full sexual relationship and referred to each other as husband and wife, but it is unclear whether they exchanged any promises. It is believed that the relationship ended in summer 1539 and Catherine went to the royal court in autumn 1539 ready to serve Anne of Cleves on her arrival in England.
At court, Catherine met Thomas Culpeper, a gentleman of the king's privy chamber. Their flirtation ended when Culpeper moved on to another lady, and Catherine ended up catching the king's eye. On 9th July 1540, the annulment of the king's marriage to Anne of Cleves was announced, and on 28th July 1540, the king married Catherine, who would have been 17/18 years of age, at Oatlands Palace. The couple had a short "honeymoon" before going off on their summer progress. In November 1539, Katherine Tilney, a friend of Catherine's from her time in the dowager duchess's household, and Francis Dereham asked Catherine for positions in her household. Katherine was made a chamberer, but, as Gareth Russell points out, there is no record of Dereham being given an official position at this time, although he remained at court and recklessly bragged about his closeness to the queen.
At Easter 1541, Jane Boleyn, Lady Rochford, on the queen's orders, arranged a meeting between Catherine and Thomas Culpeper. Catherine gave Culpeper gifts, and when he became ill, she sent him messages and food. On 30th June 1541, Henry VIII and Catherine set off on their progress to the north of England. While on progress, Lady Rochford helped Catherine meet secretly with Culpeper at Lincoln and Pontefract. At Pontefract, Catherine also received a visit from Francis Dereham, and he was appointed as a gentleman usher. The royal party arrived back at Hampton Court Palace on 30th October.
On 1st November 1541, All Saints' Day, the king asked the Bishop of Lincoln at mass "to make prayer and give thanks with him for the good life he led and hoped to [lead with her] […]", but his joy in his marriage was brought to an end the following day when he was confronted by Archbishop Thomas Cranmer with a letter that he was to read in private. The letter was concerning allegations that had been made to the king's privy council concerning the queen's time in the Dowager Duchess of Norfolk's household and her previous relationships with Henry Manox and Francis Dereham. The information had come from John Lassells, brother of Mary Hall, who, like Catherine, had been a member of the dowager duchess's household. The claims were investigated and found to be true. Unfortunately, things became even worse for Catherine when Thomas Culpeper's name came up during the interrogations.
Francis Dereham confessed to knowing the queen "carnally", and both Dereham and Catherine confessed to calling each other husband and wife. Robert Davenport (Damport), who, like Dereham, was tortured during their interrogations, stated that Dereham was hoping that the king would die so that he could marry Catherine. Thomas Culpeper and Catherine denied having a sexual relationship, but Culpeper confessed that "he intended and meant to do ill with the Queen and that likewise the Queen was so minded with him."
On 14th November 1541, Catherine was moved from Hampton Court Palace to Syon House and various members of her household were taken to the Tower of London. On the third day of her imprisonment, Lady Rochford suffered some kind of mental breakdown and so was sent to the home of Sir John Russell, the Lord Admiral, to be cared for there by his wife, Anne, and to be treated by the king's physicians. On 1st December 1541, Thomas Culpeper and Francis Dereham were arraigned at Guildhall for high treason and sentenced to death. They were executed at Tyburn on 10th December 1541. Culpeper's sentence had been commuted to beheading, because of his status, but Dereham had to suffer the full traitor's death. On 22nd December, members of the Howard and Tilney family, plus their staff, were tried for misprision of treason for covering up the "unlawful, carnal, voluptuous, and licentious life" of Queen Catherine Howard while she lived with the Dowager Duchess of Norfolk at Lambeth. They were found guilty.
On 21st January 1542, a bill of attainder against Catherine Howard and Lady Rochford was introduced into the House of Lords, and it received royal assent on 11th February 1542. According to this bill, the women were convicted and attainted of high treason and should "suffer accordingly", i.e. be executed. Jane was escorted to the Tower of London on 9th February, and Catherine was moved from Syon to the Tower on 10th February. On 12th February 1542, the two women were told to prepare for their executions, which would take place the following day. They were both executed on 13th February 1542 by beheading, and their remains were laid to rest in the Chapel of St Peter ad Vincula.
Most of the Howards and Tilneys were pardoned and released at the end of February 1542, following the executions of Catherine and Jane, but the Dowager Duchess of Norfolk wasn't pardoned until 5th May 1542 and her son, Lord William Howard, wasn't pardoned until August 1542.
Notes and Sources
Picture: Still from Showtime#s "The Tudors" series.
My own research notes for The Fall of Catherine Howard: A Countdown, work in progress.
Russell, Gareth (2017) Young and Damned and Fair: The Life and Tragedy of Catherine Howard at the Court of Henry VIII, William Collins.