11 June 1509 – Henry VIII marries Catherine of Aragon at Greenwich
Posted By Claire on June 11, 2019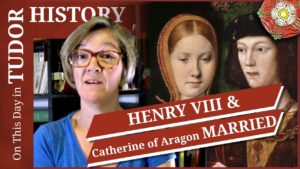 On this day in history, 11th June 1509, seventeen-year-old King Henry VIII married twenty-three-year-old Spanish princess, Catalina de Aragón, or Catherine of Aragon, in the Queen's Closet at Greenwich Palace.
Henry had come to the throne on 21st April 1509 following the death of his father, King Henry VII, and although he had previously repudiated his betrothal to Catherine, his brother Arthur's widow, when he became king he decided to marry her afterall.
You can find out more about this marriage and what led to it in today's "on this day in Tudor history" video.
Claire is doing these videos every day of 2019, bringing you news of Tudor births, baptisms, marriages, deaths, battles, executions, coronations and more, so do check out the Anne Boleyn Files and Tudor Society YouTube Channel.