Posted By Claire on May 10, 2012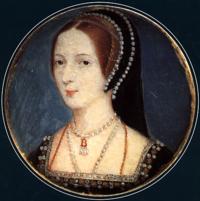 On this day in 1536, Sir William Kingston, the Constable of the Tower of London, was ordered "to bring up the bodies of Sir Francis Weston, knt. Henry Noreys, esq.William Bryerton, esq. and Mark Smeton,gent. at Westminster, on Friday next after three weeks of Easter", i.e. on 12th May. This would be the day of their trial.
Also, on this day in 1536, the Grand Jury of Middlesex announced that their was sufficient evidence against Anne Boleyn, Norris, Weston, Brereton, Smeaton and George Boleyn, to send them to trial.
Read more at 10th May 1536 – The Middlesex Indictment