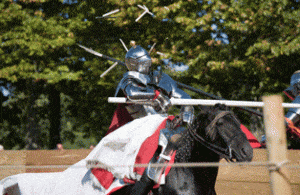 On 10th March 1524, thirty-two year-old Henry VIII was injured after he forgot to lower his visor in a joust against his good friend and brother-in-law Charles Brandon, Duke of Suffolk. According to the records, "the duke struck the king on the brow right under the guard of the headpiece on the very skull cap or basinet piece". The lance "broke all to splinters", sending splinters into the King's helmet.
Fortunately the King survived the blow, but a mortified Suffolk vowed that he would never joust against the King again. The King laughed it off, saying that it was no-one's fault and that he and his sight were saved. He went on to run six courses to show that he had not been seriously hurt.
The joust had been organised to test out the King's new armour, which was made to "his own design and fashion".
You can read more about this jousting accident in my previous article on the subject – click here.
Jousting was a very dangerous sport. Courtier William Compton was injured jousting in January 1510 and was described as "likely to dye". He made a full recovery, going on to serve the King as groom of the stool until 1526, when he was removed in Cardinal Wolsey's purge of the privy chamber. There is no mention of him suffering any permanent injury and he died of sweating sickness in 1528.
Others weren't so lucky. At the Field of Cloth of Gold in 1520 a Frenchman was killed in a joust against his brother. Sir Francis Bryan lost an eye at the Shrovetide joust of 1526, and Henry II of France died in 1559 a few days after his opponent's lance struck his helmet and a long splinter pierced his eye and penetrated his brain. People have also been killed re-enacting jousting – in 2007 a professional jousting re-enactor was killed after a splinter sheared off a 7ft wooden lance and went through his eye and brain while filming an episode of Time Team. Of course, Henry VIII was to suffer a more serious jousting accident in January 1536 – click here to read about that.