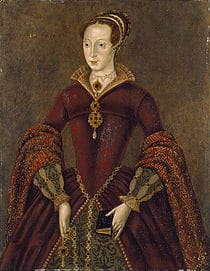 On the afternoon of Monday 10th July 1553, Lady Jane Grey, her husband Guildford Dudley, her parents and Guildford's mother arrived by barge at the Tower of London, having travelled from Syon. They were greeted there by Guildford's father John Dudley, Duke of Northumberland, and other councillors, before they made their way through the Tower gates, Jane and Guildford walking under the canopy of state.
As the procession reached the Tower, there was a gun salute and trumpets blasted to silence the crowd. Two heralds then proclaimed that Lady Jane Grey was now Queen of England before they moved on to proclaim their message in Cheapside and Fleet Street. At Cheapside, a boy declared that it was Mary who was the rightful queen, and he was punished the next morning by having his ears cut off.
On this very same day, a letter arrived from Mary informing the council that she was the rightful heir to the throne, not Jane, and demanding their support. As Jane was proclaimed Queen in London, Mary was gathering support for her cause in East Anglia. Jane was going to have a fight on her hands.
If you're interested in finding out more about Lady Jane Grey I'd recommend Tamise's blog – The Lady Jane Grey Reference Guide and the books Lady Jane Grey: A Tudor Mystery by Eric Ives and The Sisters Who Would be Queen by Leanda de Lisle.
Notes and Sources