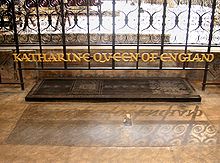 On this day in history, 29th January 1536, Catherine of Aragon was laid to rest in Peterborough Abbey, now Peterborough Cathedral. She had requested that she should be buried in a Chapel of her beloved order, The Observant Friars, but Henry's dissolution of the monasteries meant that there were none left. The Spanish princess who had left her homeland nearly over 34 years ago to become Queen of England was buried as Princess Dowager, not queen. To rub it in, the Bishop of Rochester spoke in his sermon of how "in the hour of death she acknowledged she had not been Queen of England" – as if! It's no wonder that her great friend Eustace Chapuys, the Imperial ambassador, decided to give the service a miss and remember her in his own way in London.
Catherine of Aragon's tomb* can still be seen today in Peterborough Cathedral and in my article on her death I wrote of the annual events that the Cathedral organises to commemorate Queen Catherine. I know that some of you are going so please do let us know about your experience. This year the programme includes:-
Friday 28th January, 10.30am, Catherine of Aragon Commemoration Service
Friday 28th January, 5pm, Candelit Procession and Vespers
Saturday 29th January, 9am, Roman Catholic Mass by the grave of Catharine of Aragon
Saturday 29th January 10.00am to 3.00pm, Tudor Living History
Saturday 29th January at 7.30pm, The Sixteen in concert
You can find out more about this programme of events at The Katherine of Aragon Festival 2011 webpage.
You can read a full account of Catherine's funeral in Letters and Papers, Foreign and Domestic, Henry VIII, Volume 10: January-June 1536. 284 – click here and scroll down to note 284 "Death and Burial of Katharine of Aragon".
*Her tomb is now marked with the words "Katharine Queen of England".
Sources