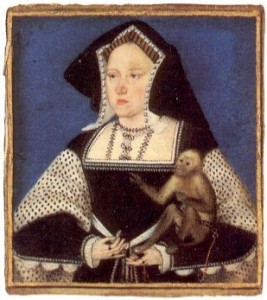 On this day in history, Sunday 12th June 1530, Queen Catherine of Aragon got rather cross with her errant husband, Henry VIII, telling him to "quit the evil life he was leading and the bad example he was setting". Here is an account of the confrontation from Eustace Chapuys, the imperial ambassador:
"On this same Sunday the Queen spoke for some time with the King, exhorting him to be again to her a good prince and husband, and to quit the evil life he was leading and the bad example he was setting, and that even if he would shew no regard for her, who was, as he well knew, his true and lawful wife, that he should at least respect God and his conscience, and no longer ignore the brief which had been executed in Flanders. The King, after many words and much commendation of those who had written in his favour, said that the brief was of very little consequence, and that even if it were he should not heed it much, because the Pope was compelled to act as the Emperor wished, and with that the King left the room abruptly without saying another word."1
Regarding the "brief" mentioned above, Catherine had applied to the Pope for a brief "to the effect that nobody shall, under pain of excommunication, judge, allege, counsel, procure, solicit, or otherwise speak "á complacentia o gratia," of this matter of the dissolution of matrimony between the King and Queen, unless it be as God and his conscience may dictate."2 As we can see from Chapuys' account, Henry VIII was happy to ignore the brief and carry on with his quest for an annulment. Although he was still appearing at state occasions with Catherine, as king and queen, he was of the opinion that their marriage had never been valid.
But it wasn't just the annulment proceedings that were upsetting Catherine of Aragon, it was also the way that Henry was treating Anne Boleyn. Although Chapuys felt "that if the Lady [Anne] could only be kept away from Court for a little while, the Queen might still regain her influence over the King, for he does not seem to bear any ill-will towards her",3 Anne was on the rise at court and there was no way that Henry was setting her aside. In December 1529, Chapuys had reported to the Emperor how Anne had taken precedence over all the other ladies at "a grand fête", even over Mary Tudor, Queen of France (Henry VIII's sister), the Duchess of Norfolk and the Dowager Duchess of Norfolk. Chapuys stated that Anne occupied "the very place allotted to a crowned queen" and that it was like a wedding banquet: "it seemed as if nothing were wanting but the priest to give away the nuptial ring and pronounce the blessing". While Anne and Henry were celebrating and act like king and queen, Catherine "was seven miles away from this place holding her own fête of sorrow and weeping".4
Also on this day in history, 12th June 1540, Thomas Cromwell wrote to Henry VIII from his prison in the Tower of London, following his arrest on 10th June. Click here to read his letter.
Calendar of State Papers, Spain, Volume 4 Part 1, Henry VIII, 1529-1530, 354.
Ibid., 318.
Ibid., 354.
Ibid., 232.