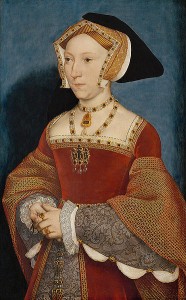 On 7th June 1536, three days after she had been proclaimed queen at Greenwich, there was a water pageant, or procession, on the Thames in honour of the new Queen, Henry VIII's third wife Jane Seymour.
Chronicler Charles Wriothesley records the event as follows:
"Also, the 7th daie of June, being Wednesdaie in Whitson weeke, the King and the Queene went from Grenewych to Yorke Place, at Westminster, by water, his lordes going in barges afore him, everie lord in his owne barge, and the Kinge and the Queene in a barge togeeter, followinge after the lordes' barges, with his guard following him in a great barge; and as he passed by the shipps in the Thames everie shippe shott gonns, and at RadclifFe the Emperoures Embassidour stoode in a tente with a banner of the Emperoures armes seett in the topp of his tente and divers banners about the same, he himself being in a rych gowne of purple satten, with divers gentlemen standinge about him with gownes and cottes of velvett; and when the Beach Kinges [the Master of Ceremonies?] barge came by him, he sent tow bottes of his servantes to rowe aboute the Kinges barge, one of them were his trumpetters, and another with shalmes and sagebottes, and so made a great reverence to the Kinge and Queene as they came by him, and then he lett shott a fortie great gonns, and as the Kinge came against the Tower of London their was shott above fower hundred peeces of ordinance, and all the tower walls towardes the water side were sett with great streamers and banners; and so the Kinge passed throwe London Bridge, with his trumpetts blowinge before him, and shalmes, sagbuttes, and dromeslawes [drummers] playing also in barges going before him, which was a goodlie sight to beholde."1
Also on this day in history…
1520 – The first day of the historic meeting between Henry VIII and Francis I of France between the English stronghold of Guînes and the French town of Ardres, on a piece of land referred to as the Field of Cloth of Gold. Click here to read more about it.
1546 – Henry VIII and Francis I signed the Treaty of Ardres (also known as the Treaty of Camp).
Roderigo Lopez, Elizabeth I's physician, was hanged, drawn and quartered at Tyburn after being accused by Robert Devereux, Earl of Essex, of conspiring with Spanish emissaries to poison the Queen. Lopez maintained his innocence, and the Queen seemed unsure of his guilt. It is thought that the charges were trumped up. Trivia: Lopez may have been the inspiration for Shakespeare's character, Shylock, in "The Merchant of Venice".
Notes and Sources
Wriothesley, Charles (1875) A chronicle of England during the reigns of the Tudors, from A.D. 1485 to 1559 Volume 1, p. 44.