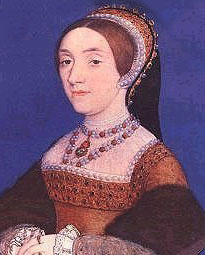 It's the turn of Catherine Howard, Henry VIII's fifth wife, for my 60-second history treatment.
As I've explained before, the idea of this 60-second history series is to give information about Tudor history in easy-to-digest 60-second chunks. Die-hard Tudor history fans don't, of course, need these videos, but I hope they act as introductions to newbies or students.
My first seven videos were on the Tudor dynasty and Tudor monarchs, and then I moved on to queen consorts, covering Elizabeth of York, Catherine of Aragon, Anne Boleyn, Jane Seymour and Anne of Cleves. You can catch them on the 60 Second History playlist of the Anne Boleyn Files YouTube channel.
Here is the latest video. I hope you enjoy it. It is so hard to condense these people's lives down to 60 seconds!