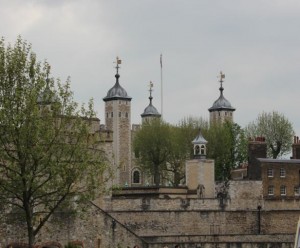 On 4th May 1536, according to Sir William Kingston, Jane Boleyn, Lady Rochford, sent a message to her husband George Boleyn, who was imprisoned in the Tower.
Kingston's reports were badly damaged in the Ashburnam House fire of 1731, and this letter has parts missing, so all we know is that Sir Nicholas Carew and Sir Francis Bryan carried the message and that it was to see how George was and to inform him that Jane "wold humly sut unto the Kynges hy[nes]…for hyr husband." George's reponse was to "give her thanks", although he must have known that any plea to the King would be a waste of time.
Also on this day in 1536, a further two members of the King's privy chamber were arrested and taken to the Tower of London: Sir Francis Weston and Sir William Brereton. Weston's arrest was predictable, coming after the Queen's ramblings about him telling her he loved her, but Anne had not mentioned Brereton and he was not close to her. Brereton's arrest may have been more to do with his opposition to Thomas Cromwell's plans for reform in the administration of North Wales, an area in which he held considerable power.
Also on this day in history…
1535 – Executions of three Carthusian monks and a Bridgettine monk at Tyburn for rejecting the royal supremacy. Click here to find out more about them.
Notes and Sources
Cavendish, George (1825) The Life of Cardinal Wolsey, Volume 2, p220