Posted By Claire on July 28, 2011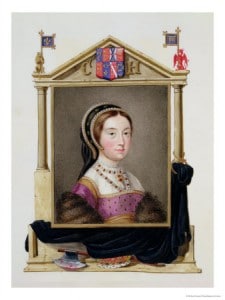 On the 28th July 1540, the same day that Master Secretary Thomas Cromwell was executed, Henry VIII married his "rose without a thorn", Catherine Howard, at Oatlands Palace. His marriage to his fourth wife, Anne of Cleves, had been annulled just a few days before so the wedding was a low key affair, hence we do not have any details of who attended. All we know is that on the 8th August 1540 Catherine Howard appeared in public as Queen at Hampton Court Palace1 and then the couple spent a short honeymoon at Windsor before going on progress2. The Victorian historian Agnes Strickland writes of how "the king had exhausted his treasury when he married his Flemish bride [Anne of Cleves], so he could not honour Katharine Howard with either a coronation or a marriage festival" – poor Catherine!
It's good that Henry VIII did not go to the expense of a lavish wedding and coronation seeing as the marriage was rather short-lived. Just a year after the wedding, Catherine was having secret assignations with Thomas Culpeper while on progress to the North and in November 1541 a letter from Thomas Cranmer, Archbishop of Canterbury, informed the King of Catherine's rather colourful past, her sexual history with Henry Manox and Francis Dereham. Henry's rose without a thorn had suddenly developed some rather nasty thorns!
Henry VIII had got a new lease of life when he married his much younger fifth wife but his happiness and hopes were dashed when an investigation into Catherine's life not only proved that the information regarding her past was true, but that Catherine may have been betrothed to Dereham, that she had employed Dereham in her household and that she was also having an affair with Thomas Culpeper, a member of the King's privy chamber. The King was devastated and Catherine and the men had to pay for his humiliation and their betrayal of their King. On the 10th December 1541, Thomas Culpeper and Francis Dereham were drawn from the Tower of London to Tyburn. Culpeper was then beheaded while Dereham had to suffer the true traitor's death: being hanged, drawn and quartered. Their heads were then displayed on London Bridge and they were still there on the 10th February 1542 when Catherine Howard was taken from Syon to the Tower of London. On the 13th February 1542, Catherine and Lady Jane Rochford, the lady-in-waiting who had helped Catherine and Culpeper with their secret assignations, were both beheaded at the Tower of London and then buried at the Chapel of St Peter ad Vincula. You can read more about Catherine Howard and her fall in the following articles:-
Notes and Sources
Hall's Chronicle, Edward Hall, p840
The Queens of England, Volume III, Agnes Strickland, p424