18 June 1529 – Proceedings Begin at the Legatine Court
Posted By Claire on June 18, 2013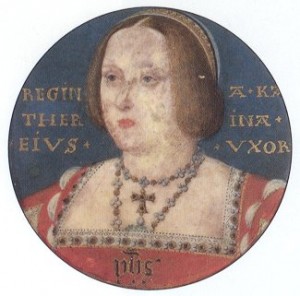 A special legatine court had been set up at Blackfriars on 31st May 1529 by Cardinal Wolsey and Cardinal Campeggio, the papal legate, to examine Henry VIII's case for the annulment of his marriage to Catherine of Aragon. Both Henry and Catherine had been summoned to appear before the Cardinals on 18th June but only Catherine appeared in person, Henry VIII sent a proxy.
Catherine's biographer, Garrett Mattingly, describes how Catherine appeared at the court "flanked by four bishops" to lodge her appeal. Her grounds for appeal were:
That the place was hostile
That the judges were prejudiced
That the court proceedings should not be taking place while the case was still pending at Rome.
Although Catherine was worried that she was "alone and friendless in England… a helpless and ignorant woman", her appeal was well thought out and Mattingly comments that Catherine "was quite as capable of getting up a case at canon law as her husband, and everything indicates that she, herself, was in full charge of her own defence."
Notes and Sources
Mattingly, Garrett (1944). Catherine of Aragon, p229-230