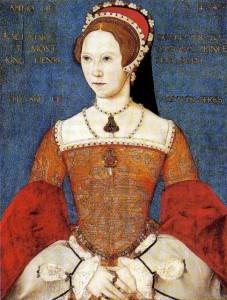 In the early hours of the 18th February 1516 a healthy baby girl was born at the Palace of Placentia in Greenwich. Her name was Mary and she was the daughter of King Henry VIII and Catherine of Aragon.
This little girl grew up to be a queen, Queen Mary I, and has, unfortunately, gone down in history as "Bloody Mary". Whatever we think of the burnings which took place in her reign, she cannot and should not be defined by them. You can read more about Mary's birth in my article "The Birth of Mary I" which also lists some of the achievements of her reign. If you want to find out more about Mary I then you may also be interested in the following articles:-
Also on this day in history…
1503 – Henry Tudor, the future Henry VIII, was created Prince of Wales
1563 – Francis, Duke of Guise, was wounded by a Huguenot assassin. He died six days later.
1612 – Death of Roberto di Ridolfi, the merchant and conspirator famed for the Ridolfi Plot to assassinate Elizabeth I. He died in Florence, Italy.