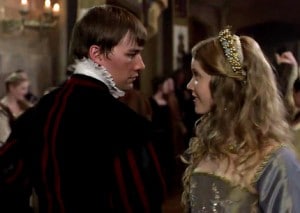 On 14th November 1541, an inventory was taken "of the goods and chattels, lands and fees of Thos. Culpeper, the younger", the alleged lover of Queen Catherine Howard.
The list included two caps of velvet given to him by Henry VIII, swords, daggers, clothing, furniture, revenues from his lands (including "the manors of Zanworth, Haselton, Nawnton and Enford, with the parsonage, Glouc. and Wilts, Fordam and Argentynes, Essex, the late monastery of Comwell, Kent"), offices he held ("Clerk of the Armoury, keeper of the house and parks of Penshurst and North Lye, master of the game and steward of the lordships of Southfryth and Northfrith, lieutenant, &c., of Tonbryge castle, keeper of Posterne and Cage parks, steward, &c., of Ashdowne forest"), horses and harness, and hangings.
An inventory of the possession of Jane Boleyn, Lady Rochford, Catherine's lady and also the widow of George Boleyn, had already been taken:
"List of plate (7 items), apparel (11 items, one "a little steel casket with a purse and forty pounds in it"), and jewels (8 items, viz., "a broach with an ag[ate], a cross of diamo[nds] with three pearls pendant, a flower of rubies, a flower with a ruby and a great emerald with a pearl pen[dent], a tablet of gold with black, green, and white enamelled, a pair of bracelets of red cornelyns, a pair of beads of gold and stones, a broach of gold with an antique head and a white face."
Things were getting very serious for Catherine Howard and those connected to her now.
Notes and Sources