13 February 1542 – Executions of Catherine Howard and Lady Jane Rochford
Posted By Claire on February 13, 2015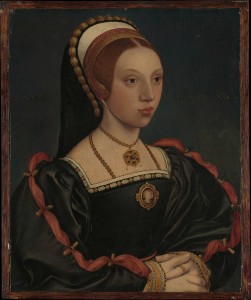 On this day in history, 13 February 1542, Catherine Howard, fifth wife of Henry VIII, and Lady Jane Rochford, wife of the late George Boleyn, were executed at the Tower of London.
We have an eye-witness account of their executions from a letter written by London merchant Otwell Johnson.
"[…] And for news from hence, know ye, that even according to my writing on Sunday last, I see the Queen and the Lady Rochford suffer within the Tower, the day following, whos souls (I doubt not) be with God, for they made the most godly and Christian's end, that ever was heard tell of (I think) since the world's creation; uttering their lively faith in the blood of Christ only, and with goodly words and steadfast countenances they desired all Christian people to take regard unto their worthy and just punishment with death for their offences, and against God heinously from their youth upward, in breaking all his commandments, and also against the King's royal majesty very dangerously: wherefore they being justly condemned (as they said) by the laws of the realm and Parliament, to die, required the people (I say) to take example at them, for amendment of their ungodly lives, and gladly to obey the King in all things, for whose preservation they did heartily pray; and willed all people so to do: commending their souls to God, and earnestly calling for mercy upon Him: whom I beseech to give us grace, with such faith, hope, and charity at our departing out of this miserable world, to come to the fruition of his Godhead in joy everlasting. Amen.
Your loving brother
OTWELL JOHNSON."
This is the only eye-witness account and it makes no mention of Catherine crying out "I die a Queen, but I would rather have died the wife of Culpeper" or of Jane confessing to giving false testimony about her husband committing incest with his sister, Anne Boleyn. That story comes from the "The Chronicle of King Henry VIII", or "The Spanish Chronicle", a source which is treated with caution by the majority of historians due to its inaccuracies.
You can read more about Catherine and Jane's fall and executions in the following articles:
And about Catherine and Jane in these articles:
Recommended reading:
Katherine Howard: A New History by Conor Byrne
Catherine Howard by Lacey Baldwin Smith
Jane Boleyn: The Infamous Lady Rochford by Julia Fox
Notes and Sources
Original letters, illustrative of English history: Volume II, compiled by Henry Ellis, Keeper of the Manuscripts in the British Museum, 1825, p128
The portrait is found in the Metropolitan Museum, New York, and is of an unknown woman attributed to the workshop of Hans Holbein the Younger c.1540-1545. Catherine's biographer, Conor Byrne believes it to be of Catherine.