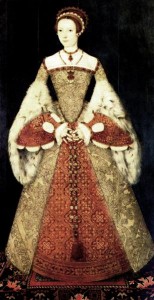 On this day in history, 12th July 1543, King Henry VIII married his sixth and final wife, Catherine Parr, in the Queen's Closet at Hampton Court Palace. Catherine Parr, or Lady Latimer as she was known, was also not new to marriage, having been married and widowed twice before, firstly to Edward Burgh (or Borough), son of Sir Thomas Burgh and grandson of Edward, 2nd Baron Burgh, and secondly to John Neville, 3rd Baron Latimer of Snape in Yorkshire.
The marriage of Henry VIII and Catherine Parr was a private ceremony attended by around twenty courtiers and friends of the couple. Catherine's supporters at the ceremony included her sister, Anne Herbert; Henry VIII's daughter's, Mary and Elizabeth; his niece, Lady Margaret Douglas; Anne Stanhope, the Countess of Hertford; Catherine Willoughby, the Duchess of Suffolk; and Jane Dudley, Viscountess Lisle and wife of John Dudley. The men included Catherine's brother-in-law, William Herbert; Anthony Denny; Sir Thomas Speke; Sir Edward Baynton; Sir Richard Long; Sir Thomas Darcy; Sir Henry Knyvet; Sir Thomas Heneage; Edward Seymour, Earl of Hertford; John, Lord Russell, the Lord Privy Seal, and Sir Anthony Browne, Captain of the King's Pensioners1.
Although Thomas Cranmer had issued the licence for the marriage on the 10th July, it was the Bishop of Winchester, Stephen Gardiner, who performed the ceremony. The notarial attestation in Letters and Papers, by Richard Watkins, gives details of the ceremony:-
"The King and lady Katharine Latymer alias Parr being met there for the purpose of solemnising matrimony between them, Stephen bp. of Winchester proclaimed in English (speech given in Latin) that they were met to join in marriage the said King and Lady Katharine, and if anyone knew any impediment thereto he should declare it. The licence for the marriage without publication of banns, sealed by Thos. abp. of Canterbury and dated 10 July 1543, being then brought in, and none opposing but all applauding the marriage, the said bp. of Winchester put the questions (recited) to which the King, hilari vultu, replied "Yea" and the lady Katharine also replied that it was her wish; and then the King taking her right hand, repeated after the Bishop the words, "I, Henry, take thee, Katharine, to my wedded wife, to have and to hold from this day forward, for better for worse, for richer for poorer, in sickness and in health, till death us depart, and thereto I plight thee my troth." Then, releasing and again clasping hands, the lady Katharine likewise said "I, Katharine, take thee Henry to my wedded husband, to have and to hold from this day forward, for better for worse, for richer for poorer, in sickness and in health, to be bonayr and buxome in bed and at board, till death us depart, and thereto I plight unto thee my troth." The putting on of the wedding ring and proffer of gold and silver (described) followed; and the Bishop, after prayer, pronounced a benediction. The King then commanded the prothonotary to make a public instrument of the premises."2
The wedding was followed by a celebration breakfast and a proclamation that Catherine was now Queen.
You can find out more about Queen Catherine Parr in the following articles:-
Notes and Sources
LP xviii part 1 873 and Catherine Parr: Henry VIII's Last Love, Susan James, p94
LP xviii part 1 873