Posted By Claire on June 11, 2017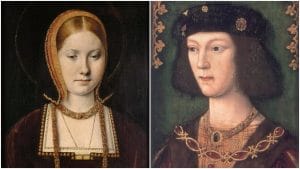 On this day in history, 11th June 1509, King Henry VIII married for the first time. His bride was his brother Arthur's widow, Catherine of Aragon, daughter of Isabella I of Castile and Ferdinand II of Aragon. Henry was nearly eighteen years of age and Catherine was twenty-three.
The wedding was a low-key affair, as a lavish joint coronation was planned for 24th June, the Feast of St John and Midsummer's Day. The couple got married in the Queen's Closet at Greenwich Palace with just two witnesses: George Talbot, 4th Earl of Shrewsbury and Lord Steward of the King's Household, and William Thomas, a groom of the Privy Chamber.