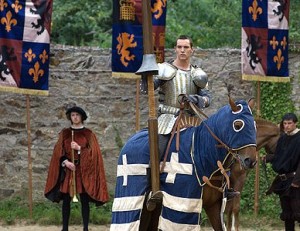 On this day in history, 10th March 1524, King Henry VIII suffered a jousting accident after he forgot to lower his visor in a joust against Charles Brandon, Duke of Suffolk. According to the records, "the duke struck the king on the brow right under the guard of the headpiece on the very skull cap or basinet piece", splintering and sending splinters into the King's helmet.
Fortunately the King survived the blow but a mortified Suffolk vowed that he would never joust against the King again. The King laughed it off, saying that it was no-one's fault and that he and his sight were saved.
The joust had been organised to test out the King's new armour, which was made to "his own design and fashion". You can read the full account at 1524, King Henry VIII had a jousting accident
Obviously, this jousting accident was not as serious as the one Henry suffered on the 24th January 1536. That one gave Henry a severe blow to the head and, according to Chapuys, he went "two hours without speaking" – see 24 January 1536 – Henry VIII's Jousting Accident.