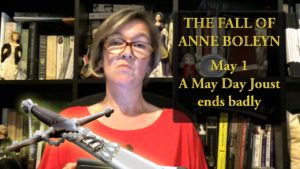 This day in 1536 was the day of the annual May Day joust. All seemed normal and happy, and nobody watching could have known that the leaders of the challengers and defenders would soon be imprisoned.
Find out what happened at the joust, and what happened when the king left abruptly with his good friend and groom of the stool, in today's video.
I'm doing these "Fall of Anne Boleyn" videos daily until 19th May and I started on 24th April. You can catch up with them on the Anne Boleyn Files and Tudor Society Youtube Channel.
You can find out more about my book The Fall of Anne Boleyn: A Countdown at http://getbook.at/fallanneboleyn.
If you prefer reading articles to watching videos, you can click here to read my article from a few years ago.