December 23: Fool at Yule
A big thank you to novelist Judith Arnopp for joining us today on the Anne Boleyn Files Advent Calendar. Judith is kindly offering one of her novels as a giveaway prize to one lucky Anne Boleyn Files follower. The winner will be able to choose any one of Judith's novels, and the giveaway is open internationally. All you have to do is comment on today's Advent Calendar post (23rd December) saying what your favourite Christmas or winter tradition is. Leave your comment before 31st December 2020.
Over to Judith…
---
During the Tudor era Christmas was a time for both prayer and feast; the spinning wheel which occupied a corner of most homes, was decorated with greenery to ensure it wasn't used until the first Monday after epiphany (Plough Monday) when work would be resumed. Christmas Trees didn't arrive in England until the Victorian era but the spinning wheel served just as well smothered with evergreen boughs, holly and ivy, a remnant of a ritual from pagan times.
Another tradition that preceded Christianity was the Wassail in which a wooden bowl containing hot ale, spiced apple, sugar and other spices, was carried from door-to-door. Neighbours were invited to drink in exchange for a coin. 'At court, a more formal Wassail was held where a bowl was passed around by royal stewards, the king being served last.
So now is come our joyful'st feast,
Let every man be jolly.
Each room with ivy leaves is drest,
And every post with holly.
Though some churls at our mirth repine,
Round your foreheads garlands twine,
Drown sorrow in a cup of wine,
And let us all be merry.
George Wither (1588-1667)
The yule log, a huge tree trunk or bundle of faggots (depending on the size of one's hearth) was brought in and burned for the entire twelve days of the Christmas celebration. It was considered good luck to keep charred remnants to start off next year's yule fire. The tradition continues today although our log tends to consist of cake and chocolate and icing sugar.
In royal houses, a boy or a fool would be 'crowned' the Lord of Misrule. Under his command normal order was overturned and the fool became king, and vice versa.
For the entertainment of the court, the Lord of Misrule could instruct anybody to do anything. It was a time of total chaos and one that is difficult to imagine. Henry VIII allowing himself to me made a mockery of is a stretch too far for me.
In the first year of James I rule, John Stow said:
In the feaste of Christmas, there was in the kinges house, wheresoeuer hee was lodged, a Lord of Misrule, or Maister of merry disports, and the like had yee in the house of euery noble man, of honor, or good worshippe, were he spirituall or temporall. Amongst the which the Mayor of London, and eyther of the shiriffes had their seuerall Lordes of Misrule, euer contending without quarrell or offence, who should make the rarest pastimes to delight the Beholders.
In 1525 Henry VIII appointed not only a Lord of Misrule for his own household but also one for Princess Mary's – the ensuing chaos must have been considerable and we know from records that things often got out of hand. There was even an ecclesiastic version of misrule when boy bishops were elected, often known as 'Fool Bishop' or 'Fool Abbot'. John Southworth says in his book Fools and Jesters at the English Court:
What followed over the next few days is commonly described as burlesque, a turning upside down of the normal liturgy; it is more accurately seen and understood as the literal acting out of the Magnificat, in which the 'nobodies' among the clergy, as represented by the fool and his assistants, were exulted as a salutary foretaste and prophetic anticipation of the Last Judgement.' (Southworth: p.70)
By Elizabeth's reign, presumably having run out of ideas for inventive mischief, the practice had almost died out.
In the following excerpt from The King's Mother: Book three of The Beaufort Chronicle, on Christmas Even 1497, Margaret Beaufort has trouble controlling the excitement of her grandson, the young Henry Tudor, later to become King Henry VIII.
Christmas Eve is the last day of fasting, tomorrow the feasting and merrymaking will begin. The children are eager, finding it difficult to sit still, small skirmishes breaking out between them. Henry is the worst behaved of all. He squirms in his seat, fidgets with his eating knife, inadvertently overturns his finger bowls and flicks his napkin at Margaret who cries out in pain.
This is too much, my patience runs out. I turn my head sharply toward him, silence him with a look and he subsides into his chair, the picture of remorse.
He has already been told that if he misbehaves he will miss tomorrow's mummers play and since entertainments of any kind are high on his list of pleasures, it is a heavy penalty indeed. For the rest of the meal he is mute, eating heartily of the meagre offerings. I myself partake lightly of the food, knowing that tomorrow's surfeit will see a return of my intestinal complaints.
I relax back in my chair as the dishes are removed and music begins to play. Prince Henry, already forgetting my warning, leans forward in his seat, elbows on the table and his chin in his hands. Beneath the cloth his feet are tapping, keeping time with the melody. He turns to me with a beaming face, "I like this tune," he says, our former disagreement forgotten. "Do you know what it is called?"
"You will be able to enquire of the musicians afterwards," I say. "Now, sit up and straighten your back, a prince never ever slouches."
Obediently he stiffens his spine and continues to tap his toes in rhythm with the song. I hear the scrape of a chair as the king rises to his feet and leads Catherine Gordon onto the floor. The company applaud and stand back to watch their monarch dance. Catherine has the grace to blush pink and I curse her for her prettiness, her youth and grace.
The queen reveals no sign of resentment. With great skill, she ensures the smile remains on her lips, her head tilting from side to side with the music. Prince Henry's surprise, however, is undisguised. His mouth has fallen open, his eyes full of indignation on his mother's behalf.
"Why is Mother not dancing?"
He swivels in his seat, leans across me to speak to the queen.
"Mother? You should be dancing. Would you like to partner me? I know the steps."
I fully expect Elizabeth to frown and instruct her son to be quiet but to my surprise, after the briefest hesitation, she graciously inclines her head.
"That would be my pleasure, sir."
Henry, his breast as proud and pouting as a pigeon's, rises to his feet. The court bursts into uproarious applause as the six year old boy leads the queen onto the floor. As is his habit young Henry steals the show; he dances with grace, throwing the king into the shade and, for once, I am glad of it.
Of course, the children have been instructed in the dance as part of their schooling but I had no idea Henry was so accomplished. Compared to his father's clumsy lumbering he is as light footed as a deer. When the dance ends and another begins, he bows with all the elegance of a courtier, takes his mother's hand and hops and trips through the steps without a single mishap. The queen keeps her chin high, her cheeks blazing with pride, love for her son evident in her teary eye.
The applause, when the dance ends, is deafening. I watch the young prince drink in the admiration of the gathering, see his courtly acceptance of their acclaim. I want to applaud with the rest but I keep my hands tightly clasped in my lap. As much as I love him, the child should be curbed. So much exuberance, if given full rein, can only end in a fall. When he leads the queen back to her seat, I remain expressionless, although he seems not to notice.
"Did you see us, Grandmother? Were we not elegant?"
"Indeed you were, child, if you think such a term should be applied to the upstaging of the king."
His pleasure melts, he looks apprehensively toward his father who is now assisting the Pretender's woman into her chair. Henry turns anxiously back toward me.
"Was I wrong, Grandmother? Have I been impertinent? Will the king be displeased with me?"
"You will have to wait and see." I turn my face from him and leave him to stew, contemplating the error of his ways. I know he means well but he must learn to think before he acts. His invitation to his mother to dance was to salve her honour. He loves Elizabeth beyond measure but he would have been wiser to consider the reaction of his father.
---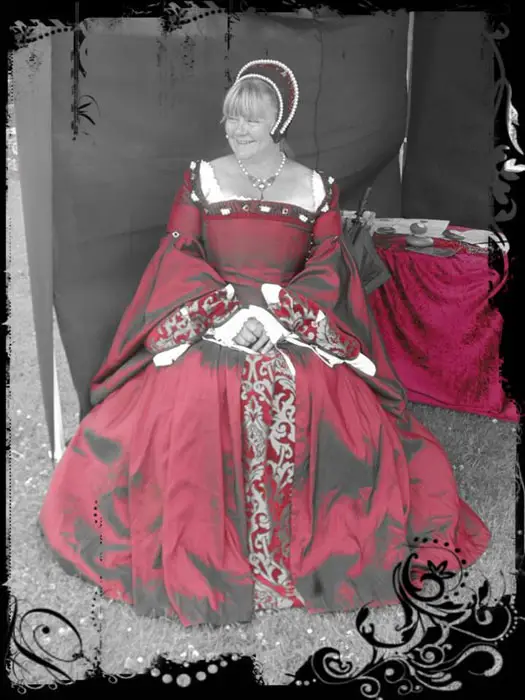 A lifelong history enthusiast and avid reader, Judith holds a BA in English/Creative writing and an MA in Medieval Studies.
She lives on the coast of West Wales where she writes both fiction and non-fiction based in the Medieval and Tudor period. Her main focus is on the perspective of historical women but she is currently writing a novel from a male perspective, that of Henry VIII himself.
Her novels include:
The Heretic Wind: the life of Mary Tudor, Queen of England
Sisters of Arden: on the Pilgrimage of Grace
The Beaufort Bride: Book one of The Beaufort Chronicle
The Beaufort Woman: Book two of The Beaufort Chronicle
The King's Mother: Book three of The Beaufort Chronicle
The Winchester Goose: at the Court of Henry VIII
A Song of Sixpence: the story of Elizabeth of York
Intractable Heart: the story of Katheryn Parr
The Kiss of the Concubine: a story of Anne Boleyn
The Song of Heledd
The Forest Dwellers
Peaceweaver
Judith is also a founder member of a re-enactment group called The Fyne Companye of Cambria, and makes historical garments both for the group and others. She is not professionally trained but through trial, error and determination has learned how to make authentic looking, if not strictly HA, clothing. You can find her group Tudor Handmaid on Facebook. You can also find her on Twitter and Instagram.
Webpage: www.judithmarnopp.com
Author page: author.to/juditharnoppbooks