December 19: Christmas at the Tower of London
Thank you so much to author and historian Amanda Harvey Purse for today's contribution, a mix of fact and fiction.
Note the photo is copyright © Amanda Harvey Purse
---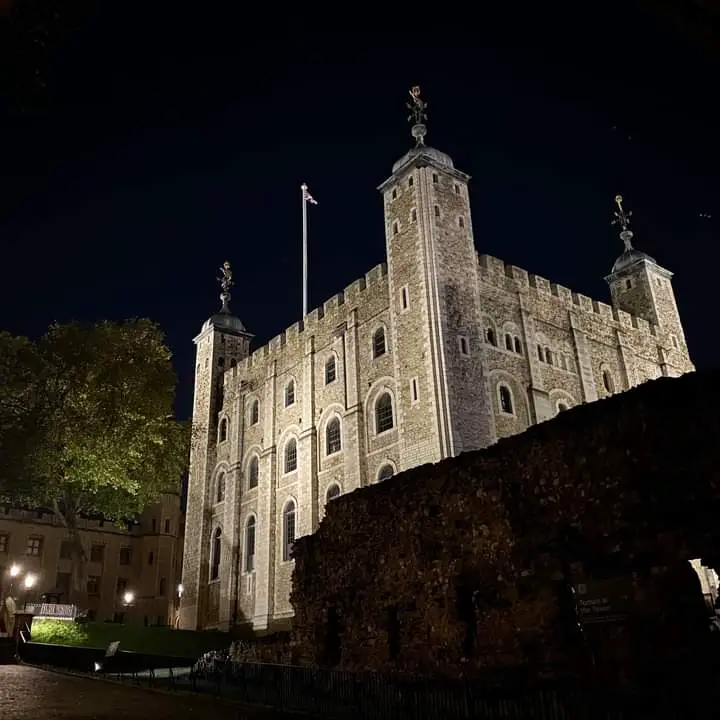 It was a dark December night, perhaps darker than most, when the guard saw the light flicker through the glass windows of the chapel. Rain had hit hard this winterly evening staining the brickwork that surrounded him and the cobbles underneath his shoes. The guard's face was cold in this seasonal wind, but his feet were warm in his uncomfortable red stockings.
Your mind can play tricks on you in a place such as this, all the history and all the deaths that have happened here, well, if you did not believe in ghosts before, the Tower has a way of making you believe. Tonight, the guard saw a ghost.
It was a ghost of someone he felt he knew; she had only died twenty-two years previously, but her presence had apparently never left. The guard had laughed at others who thought that they had seen her, 'the trick of the light' he had explained to them, he just didn't understand how others could be fooled so easily. He knew that he was a guard not to be fooled. However, on this night, he found that he was standing still on the spot, frozen like a statue, unable to move on further with his glance firmly on the movement inside the chapel.
Could it be true? Could the ghost of Anne Boleyn, the past Queen of England, really be walking inside the chapel of the Tower of London…
…
Elizabeth: At almost three years old, my mother was beheaded on the orders of my father. At my mother's death, I went from being a princess to being classed as a 'bastard'. I was put in the service of my younger half-sibling, whose mother had replaced my own in my father's affections. Upon my own half-sister's rise to queen, I was seen as an enemy, even a traitor to the throne. I was sent to the Tower of London as a prisoner, just as my mother had been before me, but unlike my mother, I managed to be set free.
One could imagine if anyone needed to relax and celebrate the festive season of Christmas, it would be I, the young Elizabeth as I ventured forth into becoming Queen of England after the death of my half-sister Mary I, who had passed away less than a month before. However, it seems that even before the beginning of my reign, before I am crowned, I will not be allowed even that.
My advisors suggest I am to go from here, straight into the Palace of Whitehall, but I will not do this. I will take my time; I will think things through. That is what you would have done, so I am told, and I will not be pushed to take my sister's place so quickly. I will go to Somerset House, a place I know so well, to become the queen I will be. But I foresee I am to be tested before I am crowned, my test is that I am faced with Christmas. An important time on any Tudor calendar. I must succeed in getting this moment right for my public to accept not only a new queen but a queen that is of a different faith compared to what has been before.
My Catholic sister had done Christmas her way for a few years, and my advisors tell me I am to take Mass upon the 25th December too, they say I am to even pay for my Mass, what am I to do? What would you have done? Oh, why is it that a future monarch only becomes such because they have lost their parent when they need them the most? I have lost both.
You were canny, you were wise, to be the queen you wanted to be, I will have to be the same. I will go to the west end of Whitehall with my ladies, I will enter the Holyday Closet within the Chapel Royal, and I will hear Mass. I will watch from the corner of my eye how my advisors react to me doing so, I will see them breathe a sigh of relief, but they will not have it all their way.
I will not descend the stairway that links the closet to the chapel, and I will not pay one pound to the Bishop Oglethorpe of Carlisle. If my attentions are not made clear by this action, then a Royal proclamation forbidding preaching to be made without a licence will make it so. Licensers would have to read from the Epistle and the Gospel, in English, in Mass. If Mass is to be read, it will be read my way. They will say that, 'at the Christmas of 1558, before she was even crowned Queen of England, Elizabeth, daughter to two well-known headstrong parents, with both Tudor and Boleyn blood running through her veins, had made her point about her faith'. Thank you for listening…mother.
With that, Elizabeth Tudor distinguished her candle and left the chapel at the Tower of London, and oddly at the same time, the ghost the guard saw from outside the chapel was gone too, forever to be stained within his memory and become legend within his family and a story to be retold again and again…
…
Attention was, of course, focused on Elizabeth since the death of Queen Mary I, but it wasn't until Elizabeth moved from Somerset House into the Palace of Whitehall on the 22nd or 23rd December 1558, that interest turned to Elizabeth's religious feeling over this period. How would Elizabeth cope with this most important of Tudor dates upon their calendar? How would a Protestant Queen handle the Christmas feast? (The Elizabethan Stage, Volume 4, E K Chamber, Oxford 1923).
All eyes were on the queen that had yet been crowned. How must the young woman that had been through so much already, that had seen so much, have felt about this time in the limelight that she had been thrown into?
It is tempting to think that she was excited, that 'her day had come' and that she enjoyed the attention, much like it is suggested that her father and mother had done before her. However, it could also be true that Elizabeth was cautious of this much focus on her. Her privy councillors would discover that Elizabeth as queen was very cautious in her actions. We, with the luxury of hindsight, only have to look at the circumstances surrounding the death of Mary, Queen of Scots and the time it took for her death warrant to be signed by Elizabeth and the sudden claiming back of that warrant soon afterwards, when it was all too late, to see an example of Elizabeth's watchful behaviour.
At the death of Queen Mary I, Elizabeth seemed slow to act. Mary had died on the 17th November 1558, and although there had been meetings, Elizabeth did not leave her home at Hatfield until the 23rd, and it wasn't until 28th November 1558, that Elizabeth entered into the City of London through the Barbican and Cripplegate. She made her cautious way through the streets, making sure to miss areas that were scenes of Protestant martyrdoms that happened in her half-sister's rule, such as those at Smithfield.
However, as soon as the people felt they had their new queen within their clasp, she disappeared from their view again within the Tower of London and there she stayed for six whole days. One might wonder what did she do within those days in the Tower of London, when all the meetings and planning were out of the way? Was she remembering her time there as a 'traitor'? It had only been four years since she was last there as such, so it is very tempting to think so.
It is also very tantalising to think that she entered into the chapel at the Tower. The chapel had been built by her father for his first wife, Katherine of Aragon, for his Catholic wife to pray in. But for Elizabeth, the chapel must have stood for more than religious intent and more than a memory of her father. The chapel combined both of her parents at a time when she could have possibly felt that she needed them the most. For within the chapel was the last resting place of her mother, Anne Boleyn.
It is quite easy when listing out the line of succession within the Tudor period to think of Elizabeth as her father's daughter, after all Elizabeth would never have been queen without being King Henry VIII's daughter, however she was also Anne Boleyn's daughter and at a time when Elizabeth was on the cusp of becoming Queen of England herself, it is hard not to picture Elizabeth snatching a moment to herself by walking into the chapel, whatever her religious beliefs were, to spend some time alone with her mother. One wonders what she would have asked her? Would it have been something like this story? We can only imagine.
It was on the 5th December 1558, that Elizabeth left the Tower of London by barge. This was St Nicholas's Eve, and in the midst of celebrations, the trumpets were playing, and music rang out for everyone to hear. However, Elizabeth was not heading for the Palace of Whitehall as one may have thought their monarch would do, instead Elizabeth would stay within Somerset House until the eve of the Christmas merriments that year. (Wriothesley Chronicle II.)
Elizabeth would also make that very Royal Proclamation, which was the end of Latin being used in Mass during her reign. (Tudor Royal Proclamations. Hughes and Larkin II). Elizabeth had made her point quite clear at the Christmas of 1558, even before she was even crowned, a sign of her strong-willed Tudor and Boleyn inheritance perhaps? Either way, it was certainly, a sign of events to come and how Elizabeth would react to them.
---
Written by author and historian Amanda Harvey Purse.
Being a member of the Royal Historical Society, Amanda has written articles for many magazines, websites and Societies. These include The Whitechapel Society Journal, The True Crime Dagger Magazine, The Charles Dickens Society, The Anne Boleyn Files, Book Reviews and More, and Rotten Ramsgate websites.
Amanda has worked with many museums and television companies behind the scenes, while also writing historical books. The titles of which include, Martha, (the lives of the people involved in the Martha Tabram murder investigation of 1888) The Cutbush Connections: In Flowers, In Blood and in the Ripper Case, Inspector Reid: The Real Ripper Street (the life and times of Inspector Edmund Reid, whose most famous case to investigate was the Jack the Ripper case of 1888. Royalties from this book went into a fund for getting Edmund Reid a headstone in Herne Bay, Kent), Jack and Old Jewry: The City of London Policemen who Hunted the Ripper (not only going into the lives of the policemen who investigated the sad death of Catherine Eddowes in 1888, as the title would suggest, this book goes into the history of the City of London Police Force, the life of Catherine Eddowes, the lives of the doctors at the scene of the crime and the history of the murder site with Mitre Square and the mortuary used in Golden Lane).
She is currently working on two books, the first being The Boleyns: From the Tudors to the Windsors due out in 2021, with the second following.