December 12: Anne Boleyn spends a subdued Christmas in Paris, 1514
Thank you to Natalia Richards for sharing this excerpt from her novel "The Falcon's Flight" which has our very favourite historical character, Anne Boleyn, as the protagonist.
---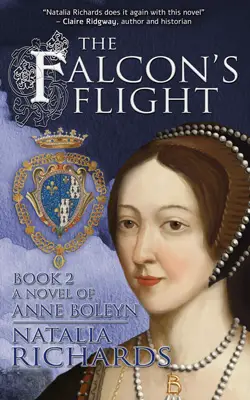 Throughout late November, at the château of Saint-Germain-en-Laye, just two leagues outside Paris, we attended the young queen as she greeted the many dignitaries who flocked to see her. Overlooking the River Seine with its bridge across the dry moat, the château appeared somewhat dilapidated, but inside its draughty chambers there continued a heady round of official banquets, dancing, and entertainments. At one such dinner, Claude asked me to play an English song on my harp for the mayor, and sitting on a cushion before the illustrious company, I thoroughly enjoyed the attention.
Meanwhile, King Louis remained behind at the Hôtel des Tournelles, too ill with gout to accompany his lovely wife. He had changed his dining hours to suit his new queen, retiring to bed far too late, having eaten rich, fatty suppers. He had a great love of sauce a là bretonne, which included ham, veal and partridge juice mixed with butter and chicken jelly, but sadly it did not love him back. Frequently sick and fearful that the smell of vomit would not be conducive to love, he had lain on his bed alone during the day, in the dark palace. Behind his back, the court smirked and sniggered, saying he rode a spirited horse to Paradise. However, every night, the queen dutifully returned to her husband to play music for him, keep him company, and feed him herself from a golden spoon laden with greasy meat.
In December, the Duke of Suffolk, to Louise's visible relief, was recalled to England. The queen, now feeling vulnerable from the ever more pressing advances of François, threw herself into a fever of nervous activity. We maids were so tired from the late-nights that we could barely keep awake during the morning Mass, but still, the queen insisted on late-night supper parties, dancing, and singing. She also had a passion for riding out in the snow or skating on the ice on the River Seine, wrapped in sumptuous furs. Poor Louis lay watching in his canopied chariot, his feeble breath barely making a wisp in the frosty air, surrounded by exhausted courtiers and ambassadors.
'Well, well,' he wheezed, 'see what a pretty conceit she is and I, I tell you, will soon regain my vigour. I will have an army in Italy by Candlemas, so urge me no more and heat yourself not. I am warmer than you all, and I assure you, the expedition will take place. It is just this gout that troubles me so.'
The ambassadors, stamping their snow-covered feet to try and keep warm, were not fooled. Louis waved as his queen swept away on the arm of François, blowing a kiss from her red, velvet glove. As he coughed into a cloth and observed the specks of blood, he sighed. He was not fooled either. He had promised her a wonderful Christmas in Paris, but he knew that he grew weaker by the day. He gazed sadly at François' jewel-encrusted cloak, knowing what it had cost the treasury, and mumbled to the Vicomte de Lautrec: 'Ah, that rude boy will spoil everything.'
The nobles, standing close by, nodded in solemn agreement, but all knew the frugal old Louis, and it was obvious to all that they looked towards the next young king. They were done with this burnt-out old fossil of a creature in his shabby coat. A king should look a king, noble and majestic. Claude, meanwhile, gazed on indulgently from her fur-draped sledge, and although distressed at her father's condition, put on a brave smile. As she glanced down at the medallion of St Margaret held tightly in her thin fingers, I knew that while some might mock her, none could touch her. François had done his duty and as she smiled, she was, no doubt, content in the knowledge that it would not be long before she gave him his greatest wish.
Louis felt too ill to attend Mass, and on Christmas Day, at the Hôtel des Tournelles, the physician ordered the court to remain as quiet as possible. There were no noisy carollers, processions or late night masques, no feasting, dancing, or gaiety – just an oppressiveness hanging over the gloomy chambers. It resulted in a very subdued day, more like Christ's death than birth. In the grande salle, courtiers gathered in corners, or warmed themselves by the meagre fireplaces and muttered in low voices. Meanwhile, the queen sat anxiously alone with Claude, having been advised by Madame d'Aumont not to leave the duchess's side for a moment, but to read her prayer book.
In our chamber, where my sister and the other girls sat playing chess, I strummed quietly on my lute and thought back to the previous Christmas at Mechelen. It could not have been more different. I wondered what the Regent and the other girls were doing, and if they were preparing for a masque. I thought of my dear tutor, Madame Symonnet, and pictured her laughing eyes and lilting voice. In England, my parents were attending the court at Placentia, and Mother had just written to Mary and me enclosing two sets of coral earrings as New Year gifts for us both. I put my instrument down and slipped the letter out from under my sleeve to read again. Mother wrote that the ladies were now much occupied with Queen Katherine and her terrible grief, for she had brought to almost full-term a longed-for prince. But it proved too soon, and he was stillborn. No one knew what had happened, but some said it might have been due to the queen's distress over the king's dalliance with a girl called Elizabeth Blount. It was foolish, for everyone had told the queen it meant naught, but she would not be calmed. For months the king had rejoiced in a fever of excitement and anticipation at the coming birth. This son, he had said, would be the finest Christmas gift the queen could offer him, a new saviour of the world, but one born in the most sumptuous surroundings rather than a meagre stable. The magnificent cradle and baptismal font had already been sent from Canterbury for the christening. Now, however, nothing but wailing and weeping drifted from the queen's chambers. The king, disappointed beyond all reason, behaved cold and distant and none dared approach him. In expectation of a prince, he had already received a congratulatory gift of twelve beautiful broodmares from Mantua, in Italy, each worth their weight in silver. He now spent his time down at the stable yard perusing them, far away from hysterical women. The Italian envoy, along with the Duke of Suffolk, had put them through their paces before His Grace, and the king was so impressed with the envoy's riding skill that he tried to persuade him to remain in England in his service. Mother wrote that as my father stood watching the talented display with my brother, George, the king had beckoned the boy over. Showing him special favour, George had, to his joy, been allowed to trot about the courtyard on one of the mares. The king seemed especially fond of my talkative, merry little brother and perhaps saw in him the boy for whom he yearned. There would be a wedding, too. Young Bessie Bryan – she whom the king had once been so enamoured of – was to wed Nicholas Carew before the Feast of the Purification of Our Lady.
Matters took a turn for the worse. As I stood at the top of the great oak staircase watching the growing crowd of murmuring ambassadors and courtiers gathering below, I gave a little gasp.
'Oh, there is someone I know,' I said.
The girls followed my gaze.
'It is Signor Mercurin Gattinara,' I said, 'the Flemish ambassador from the Regent's court at Mechelen, and with him is Signor de Nassau and Signor de Saint-Py.'
I slipped down the staircase into the heat and press of the crowd and approached the ambassadors resplendent in their fur cloaks.
'Signor,' I said, with a respectful curtsey, 'forgive me, sir, for being so bold, but I served at the court of the Regent, Madame Margaret, last year and I wonder if you could tell me how does my lady?'
The gentleman turned around with a quizzical look. 'And you are, mistress?'
'Anne Boleyn, signor.'
He nodded slowly in recognition, his manners impeccable, and smiled indulgently. 'But of course, now I remember you. I remember you very well for it is my business to remember faces. And I remember how prettily you played for my lady'. His companions smiled too. 'Madame grew very fond of you and – if I recall correctly – felt somewhat put out when your father recalled you from her service. Well, now I assume you are here at the French court, serving our new French Queen.'
I nodded, eagerly, as he continued.
'I am content to report that the Regent is very well indeed and busy with plans to celebrate the prince's fifteenth birthday and coming of age.'
'With a grand boar hunt in Mechelen?' I asked.
Signor Gattinara laughed. 'Oh, something far more spectacular this time, I think. Ah, now, if you will excuse me, I think we are finally moving.' He bowed and turned away.
'Please, signor, give Madame my felicitations,' I added, 'and tell her she is often in my prayers.'
As the gentleman inclined his head and walked away, my sister beckoned to me from the balcony. I made my way back.
'You should not approach people like that,' she chastised when I reached her. 'You are too bold.'
As we stood observing the crowd, five grandly dressed gentlemen appeared in a cloud of scented silk. They were speaking so quickly and excitedly that I could not understand a word they were saying, and the cloying scent of violets hung in the air as they descended the staircase.
'Who are they?' I asked, picking up Bonny and nestling her in my arms.
'Men who can smell a corpse,' said Eliza.
I must have appeared alarmed for she smiled.
'Well, they smell like women,' I added, referring to the sickly aroma.
'Who is that?' asked my sister, leaning over the balustrade, revealing her ample bosom.
'The handsome gentleman in the blue cap,' continued Eliza, 'is Guillaume Gouffier, Seigneur de Bonnivet. They say he is the most profligate man at court, which is saying something for France. I hear from gossip that poor Marguerite felt quite passionate about him once. Truth be told, I think she still does.' She pointed again. 'The other gentleman there is Seigneur de Bayard, reputed to be the best horseman in France. I think that is Philippe Chabot and that is Anne de Montmorency – you pronounce his name 'Annay'. Finally, there is Robert de la Marck. They were all brought up with François at Amboise, as pages d'honneur and they accompany him everywhere. See how they are hastening to the royal apartments.'
I watched as they disappeared, fascinated by the richness of their attire.
'Not that they have been kneeling with their rosary beads, mumbling prayers,' said Mary Fiennes under her breath. 'There have been complaints from the king's doctor that the laughter coming from François' apartments has been most disrespectful.'
'And I know why,' said Ann Jernyngham, 'for I hear François and his companions have been holding their own Christmas, celebrating the fact that he is about to receive the finest New Year's gift possible.'
'Is the king so very ill then?' I asked.
---
Picture of Mary Tudor and King Louis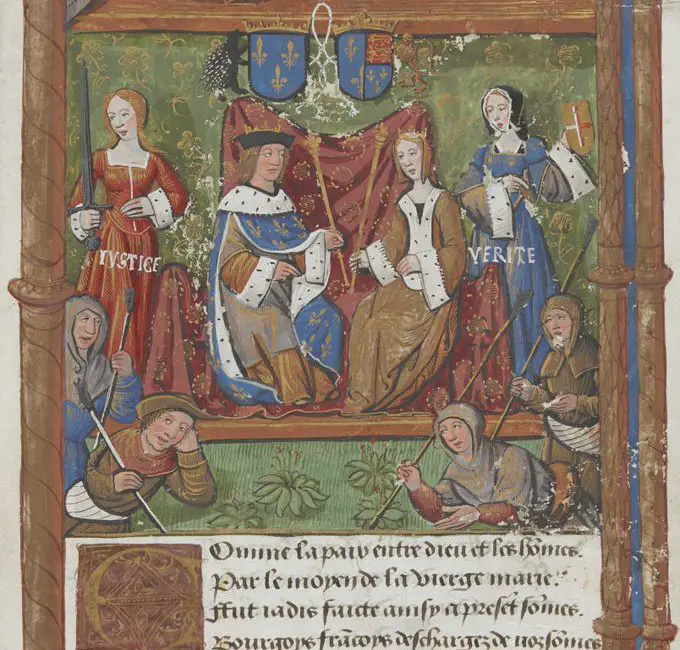 ---
The Falcon's Flight is book 2 in Natalia's 2-book series on Anne Boleyn and it's available in paperback or on kindle:
Amazon - http://getbook.at/falconsflight
The first book is The Falcon's Rise.
Natalia says of herself:
As a curator and historian for over 30 years, I have worked in many museums in Derbyshire and later in London. Over the years I specialised in everything from Victorian toys and memorabilia, to Royal Crown Derby and Militaria. I also worked free-lance for the History Channel USA as researcher, co-ordinator and interviewer on the award winning production 'Secrets of War.' However, my personal passion since a very early age has been the study of the Tudors, particularly Anne Boleyn and the court of King Henry VIII.
I did not begin writing seriously until around 2008, and originally wanted to write about Anne Boleyn at the English court. However, a great deal had already been written about this period, and I began to look at her earlier life from around 1500 to 1521. Since research as a curator has always been my passion, I wanted to write as factual a novel as I could and spent years visiting sites such as Blickling in Norfolk, Hever Castle, Rochford Manor and the palace of Margaret of Austria, in Mechelen, just outside Brussels. It was here that Anne was sent as a young maid-of-honour, and I was honoured to gain access to rooms not normally open to the public. The result of my research was 'The Falcon's Rise,' my first book. I have followed it up with part two 'The Falcon's Flight' published 19 May 2020. This second book covers Anne's time spent at the French court, and ends as she is about to return to England. I had a wonderful time in France researching this book and seeing the places Anne herself knew. I hope you enjoy reading about these place, too.
In my spare time, I love travelling, rambling and visiting historic houses, as well as constantly reading and researching the Tudor period.