December 14
Thank you so much to historical novelist Nancy Bilyeau for contributing today's Advent Calendar treat. I loved Nancy's Joanna Stafford novels.
1558: A Young Queen's First Christmas
Elizabeth I presided over a glamorous and accomplished court that must have been a sight to see at Christmas time. But quite possibly Elizabeth's first Christmas season as queen of England was her most joyful.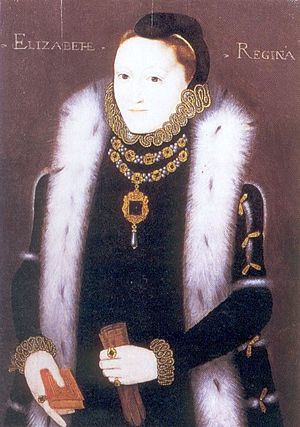 Just two months earlier, Elizabeth, twenty-five years old, was trapped in the limbo she'd lived in during the reign of her half-sister Mary. Her standing swiveled from uneasily tolerated heiress to the throne to suspect traitor, imprisoned in the Tower of London.
After Mary's husband, King Philip, interceded on Elizabeth's behalf, her status became more bearable. She was no longer imprisoned or exiled under strict house arrest, but neither was she treated with trust or warmth. It was a difficult time, no doubt.
Mary died the morning of November 17, 1558, after steadily weakening from illness, without her husband or family by her side, only her devoted ladies-in-waiting. Elizabeth had already set herself up in residence at Hatfield House, and relatives of hers on the Anne Boleyn side—the Careys and Knollyses—flocked to her side when word spread that Mary was not expected to survive.
After the news was announced in the House of Lords, Mary's councilors like Nicholas Throckmorton and the earls of Arundel and Pembroke rode as fast as they could to Hatfield to ingratiate themselves with the new Queen. However, she had already chosen her chief minister, William Cecil, and he would remain her faithful councilor until the day he died.
Throughout November and December, more lords and relations stampeded to the side of Elizabeth, who no doubt enjoyed the adulation, but she also saw to it that everyone realized she intended to be a strong ruler. During a dinner with Elizabeth, the Spanish ambassador emphasized that Philip was her chief ally, and hinted at a marriage. She assured him that she trusted Philip more than she did the French, but afterward the ambassador wrote, "She is a very vain, clever woman, who has been thoroughly schooled in the manner in which her father conducted his affairs."
Elizabeth began her progress to London in the last week of November, accompanied by many lords and ladies. This was the first time some Londoners would get a look at the slender young queen: golden red hair, brown eyes, a long oval face.
At the Palace of Whitehall, she took up the reins of government. Elizabeth dismissed more than half of her sister's councilors. She also drew in some of the players in her brother Edward's court who had been eclipsed in the time of Mary. Robert and Ambrose Dudley won important positions, as did Sir Henry Sidney.
From the earliest days, Robert Dudley, the same age as Elizabeth and like herself imprisoned by the late Queen Mary, won favor. The handsome Robert was named Master of the Horse. And it was Robert who brought in Dr. John Dee, the astrologer and scholar, to advise Elizabeth. He suggested the most propitious date for her coronation: January 15th.
Before she was crowned, Elizabeth would enjoy the Christmas season. Soon enough she would face the problems of religious settlement, of a threatening Scotland, and an empty treasury. But for now, there was…dancing. For all her long life, Elizabeth loved to dance. In these December evenings were state banquets, followed by listening to music, playing cards, and dancing until late at night. Robert Dudley was in charge of these court entertainments, which included balls and masques. Everyone could see that Elizabeth was relishing her freedom from confinement under Queen Mary and very much enjoying herself.
Christmas Day, however, was not devoted to dancing and music. It was a day of religious solemnity. Elizabeth had word sent to the Bishop of Carlisle, who officiated over Mass in the Royal Chapel in Whitehall, not to elevate the Host. Protestants did not observe the miracle of transubstantiation. Those who had been happy to return to Catholicism under Mary were nervous about the new Queen's religious beliefs. Would she force the kingdom back to the Protestantism of Edward?
The bishop felt he had to follow his own beliefs on Christmas Day and he did begin to raise the bread and wine, when Queen Elizabeth called out for him to desist. When he kept doing what he intended to do, she stood up and left the chapel. There was now no doubt as to the religious feelings of Queen Elizabeth.
A new reign had begun, and a Queen who very much intended to rule England her way.
About Nancy Bilyeau
Nancy Bilyeau is the author of the Tudor trilogy—The Crown, The Chalice, and The Tapestry—available for sale in nine countries. Her new novel, The Blue, is set in 18th century Europe, with its protagonist a young Huguenot artist who gets caught up in a spying scheme in a porcelain factory. For more information, go to www.nancybilyeau.com