December 10
Today we have a festive piece from Natalie Grueninger, all about how people decorate their houses for Christmas, and comparing that to the Tudor period
Deck the Halls Tudor Style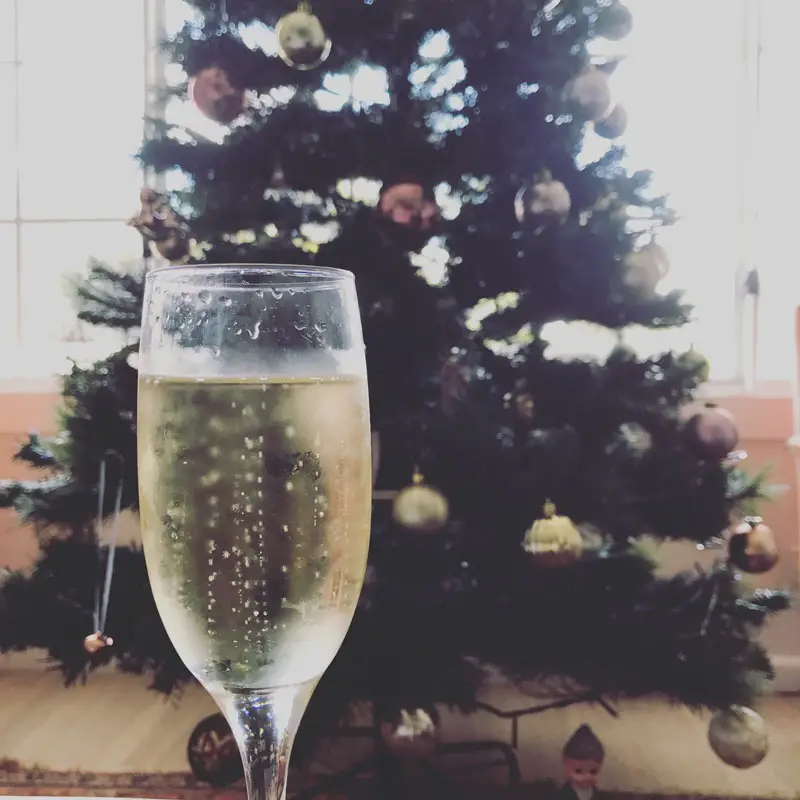 With Christmas fast approaching, and childhood memories rushing to the fore, my thoughts have turned to decorating the house for the festive season. This means countless hours on Pinterest joyfully sifting through all the Christmas eye candy and afternoons spent on the verandah, chilled glass of bubbles in hand, flicking through the December editions of my favourite home decorating magazines. It's no secret, I absolutely love this time of year. I always have.
As a child, I'd borrow all the Christmas-themed books from the library and spend hours poring over them, totally engrossed in the many cosy fire-side scenes, wondering what a white Christmas would feel like. (You see, I'm a born and bred Sydneysider, and so all of my Christmases have been set against a backdrop of sun and vibrant blue skies). I'd while away the hours making homemade decorations, like paper chains and advent calendars out of matchboxes, draw more pictures than my parents knew what to do with, and, one year, I even re-wrote the lyrics to Band Aid's Do they Know it's Christmas? I adore the palpable sense of wonder and magic that tinges the air, and the intoxicating scent of jasmine and gardenia. The warmth, anticipation and mystery do wonders for the soul!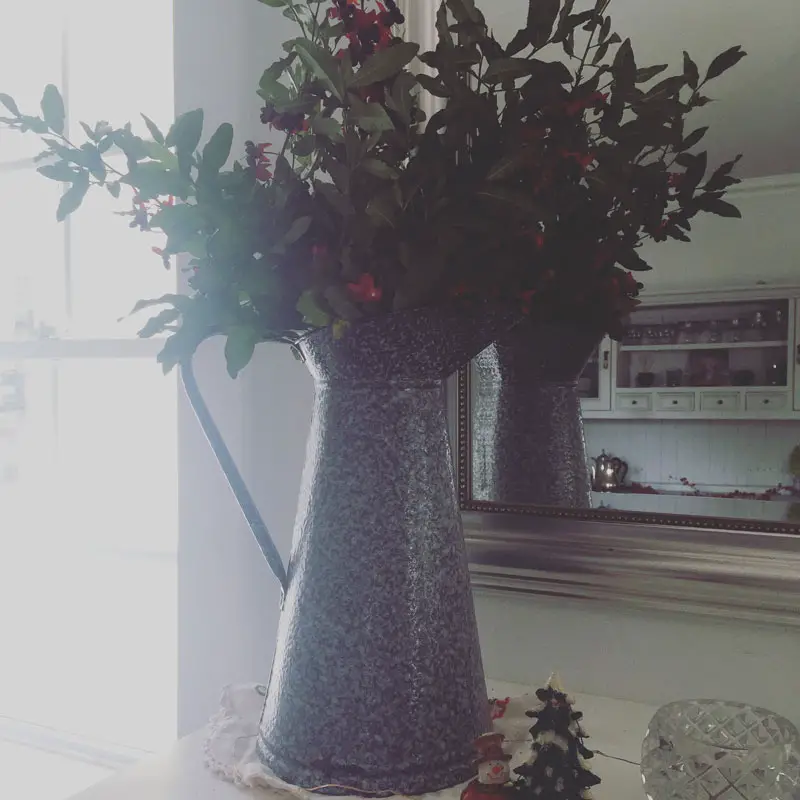 When December 1 arrives, I cue the carols, pop a bottle of French champagne and begin! We trim the tree as a family, a beautiful tradition that I look forward to each year, and then I decorate the rest of the house, while my hubby takes care of the 'exterior illumination' with my son (yes, we're huge fans of the Griswolds!). But as a lover of Tudor history, I always like to evoke a sense of the past by adding a few Tudor-style touches to my home.
Although Christmas trees made an appearance in Germany in around 1520, and can be traced back even further to pagan traditions, the Tudors did not adopt this custom. Instead they decorated their homes on Christmas Eve with evergreens like holly, ivy, mistletoe, box, laurel and yew. The Elizabethan annalist John Stow recorded in his 1598 Survey of London that, 'Against the feast of Christmas, every man's house, as also the parish churches, were decked with holm, ivy, bays, and whatsoever the season of the year afforded to be green'. He also recorded that 'The conduits and standards [flagpoles] in the streets were likewise garnished'. Churches also adorned their windows with bay and branches of laurel. In a churchwarden's account from 1647, we find rosemary listed among the items purchased to be 'stuck about the church at Christmas'. Apart from the greenery of the season, dried fruit and berries were also used. Oranges too, were a popular decoration. And we can't forget candles!
The Tudors used these all year round to provide light in the evening, but as they were essential to daily living, they were also incorporated into their decorations. In Alison Weir and Siobhan Clarke's A Tudor Christmas we hear that 'some [greenery] was woven around wooden frames and stuck with candles'. Only royalty and the very wealthy could afford beeswax candles as they were extremely expensive, the majority of people in Tudor times made do with rush-lights, made by dipping a rush into animal fat (tallow). These were smelly but affordable.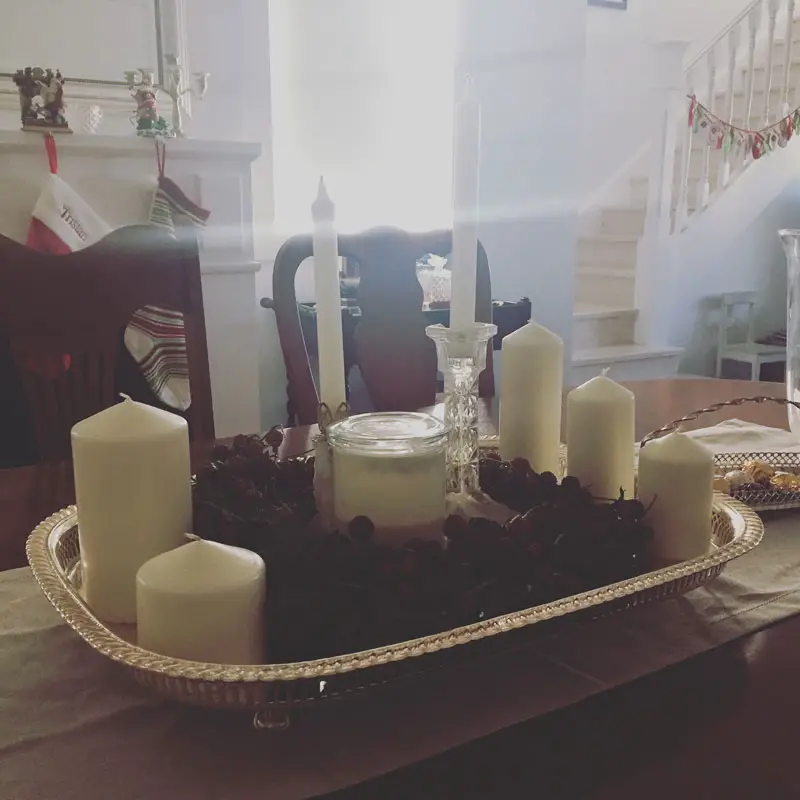 With this in mind, I love to bring the outdoors in and decorate my own home with greenery. I don't have access to all the evergreens mentioned above, so I follow Stow's advice and use 'whatsoever the season of the year afforded to be green'. This may include cuttings from Eucalyptus, Bottlebrush or Wisteria trees. I also like to decorate with fruit; a bowl of pomegranates looks particularly festive this time of year, as do red apples. A dried-orange garland or a dried-fruit wreath are other ways to add some Tudor-style touches to your home. To make sure the aromas of Christmas of old fill my house, I like to display Christmas potpourri in bowls and on platters and simmer fruit and spices on the stovetop on low heat. Orange slices, cinnamon sticks, nutmeg and cloves work well.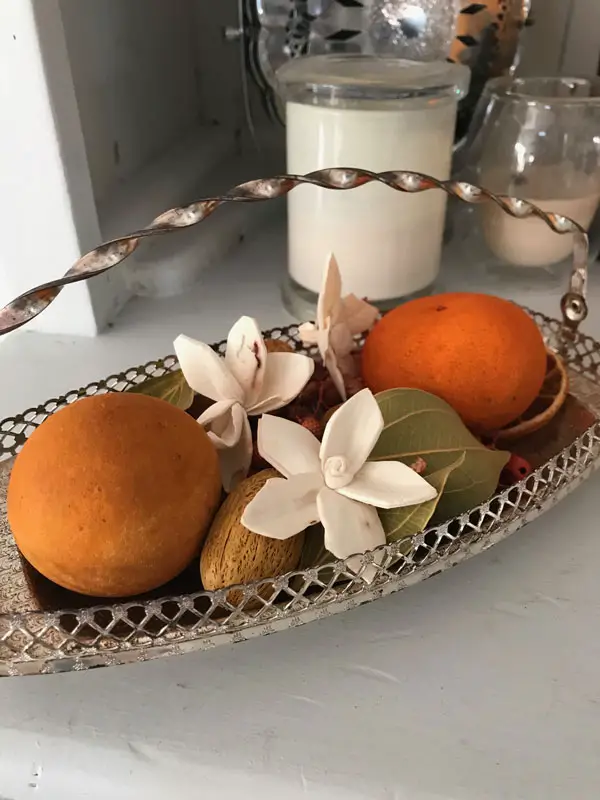 Like the Tudors, I use candles all year round. I find that the simple act of lighting one connects us through the ages to those who lived and worked by candlelight. One of my favourite table centrepieces is a beautiful artificial berry wreath that I fill with candles of varying sizes. Let us not forget music, too! While not technically a decoration it most certainly adds to the ambience of a room. Music was of paramount importance to the Tudors and played a prominent role in all aspects of court life, including during the Christmas festivities.

So, as the sun beings to set this Christmas, light the candles, pour a glass of wine and play some Tudor carols. A particular favourite of mine is the Coventry Carol, and while not Tudor, I adore Enya's version of 'O Come, O Come Emmanuel'. It's so moving and atmospheric! I also love to listen to the British musical ensemble Mediaeval Baebes and the English vocal consort, Alamire, who specialise in medieval and Renaissance music. They're album Deo gracias Anglia! Medieval English Carols will delight all Tudor time travellers.
As Christmas draws near, we can imagine the Tudor royal palaces dressed in the season's greenery and bathed in the soft glow of candlelight, and the scent of spices – cinnamon, ginger, cloves and nutmeg – filling in the air, as the musicians entertain the court. It doesn't take very much to evoke a sense of that magic and splendour in our own homes this holiday season.
Wishing you all a peaceful and very Tudor Christmas!

Natalie x
Natalie Grueninger is a researcher, writer and educator, who lives in Australia with her husband and two children. In 2009 she created On the Tudor Trail, a website dedicated to documenting historic sites and buildings associated with Anne Boleyn and sharing information about the Tudor monarchs and daily life in sixteenth century England. Natalie is fascinated by all aspects of life in Tudor England and has spent many years researching the period.
Her first non-fiction book, co-authored with Sarah Morris, 'In the Footsteps of Anne Boleyn', was published by Amberley Publishing in the UK in September 2013. Book number two in the series, 'In the Footsteps of the Six Wives of Henry VIII', was released in the UK in March 2016. In 2017, Natalie collaborated with illustrator Kathryn Holeman to create 'Colouring History: The Tudors', a unique and beautifully illustrated colouring book for grown-ups that features images and scenes inspired by the ever-fascinating Tudor dynasty. The second book in the series, 'Colouring History: Tudor Queens and Consorts', was released in May 2018. Natalie's first solo book, 'Discovering Tudor London' was published in the UK by The History Press in August 2017.
Natalie is the host of 'Talking Tudors', a podcast for lovers of Tudor history. You can connect with Natalie at her website http://onthetudortrail.com/Blog/