Posted By Claire on July 4, 2017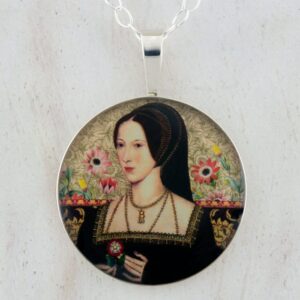 The talented, and very kind, Tiffini, who makes our beautiful sterling silver portrait jewellery, is offering Anne Boleyn Files visitors the chance to win an Anne Boleyn Grandioso Pendant – thank you, Tiffini!
This grandioso pendant features an image from a stunning collage by Tiffini Elektra of the famous Hever Castle Anne Boleyn portrait. It shows Anne Boleyn holding the Tudor Rose with pieces of antique anemone botanical and ornamental papers and bookplates. One of the symbolic meanings of the anemone flower is "forsaken". The pendant is sterling silver and the image is printed with archival inks and materials, and then protected by a clear, waterproof, flawless and archival resin. The pendant is approximately 1 and 3/16 inches in diameter (30mm) and comes in a lovely gift box. I have one and it's one of my favourite pieces of jewellery.
All you have to do to be in with a chance of winning this stunning pendant is to leave a comment below saying what your favourite thing about the Anne Boleyn Files website is. Leave your comment by midnight on 11th July 2017. One lucky comment will be picked at random and the winner contacted for their details. The pendant is shipped from Colorado, USA, and the giveaway is open internationally.
If you don't win, or can't wait, then we do of course sell the pendant in our online shop – see our Contemporary Jewellery section.