Posted By Claire on November 21, 2016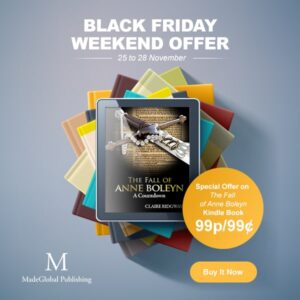 Black Friday and Cyber Monday, the Friday and Monday following the US holiday of Thanksgiving, have become a traditional time for retailers to have sales and so my publisher is getting in on the act!
My books (and some other wonderful books too!) will be Kindle Countdown Deals from Friday 25th November until the end of Monday 28th November. This means that you will be able to buy the kindle versions at $0.99 or 99p each on Amazon.com and Amazon.co.uk.* Bargain!
Here is a gallery of all of my books that will be Kindle Countdown Deals – phew!
And here are the links to buy these books:
I will be reminding you of this sale on Friday but do mark it in your diaries!
If you don't have a kindle then Amazon offer free kindle reading apps for smartphones, tablets, PCs and Macs so you can still take advantage of these offers – see https://www.amazon.com/kindle-dbs/fd/kcp or https://www.amazon.co.uk/gp/digital/fiona/kcp-landing-page.
If you prefer physical books, MadeGlobal.com is offering their books at discounted prices and with signed bookplates directly from their website's shop – https://www.madeglobal.com/shop/.
*Those are the only Amazon stores that offer Kindle Countdown Deals at the moment.