Posted By Claire on May 3, 2022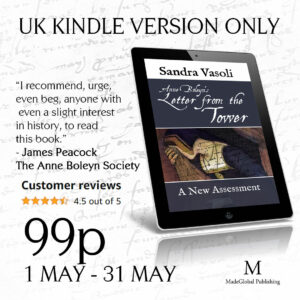 To celebrate Sandra Vasoli's book being part of an Amazon UK promo this month – just 99p on kindle – Sandi has popped into the Anne Boleyn Files for an interview.
Click here to find the book on Amazon UK.
Welcome to the Anne Boleyn Files, Sandi!
How did your study into this fascinating letter begin?
In late 2014, I was in the planning stages of a research trip to the British Library Archives to seek new information about the relationship between Anne Boleyn and Henry VIII. In thinking about what might be an intriguing subject to explore, I began a discussion with Claire Ridgway about the very mysterious letter which is dated May 6, 1536, which some people attribute to Anne Boleyn, while others refute that premise. Claire and I, together, started to dig for whatever information we could find online about it. While Claire's other commitments were fully occupying her time, she passed me the information she'd found, and I took the search from there. I was rather obsessed with the topic and determined that my next visit to the British Library would involve uncovering anything I could about this letter. And, fascinatingly, I did discover enough to fuel the foundation of my theories about this poignant document, now so fragile that it is kept in a state of preservation.
Why is this letter currently of interest and in the news?
My interest in Anne Boleyn's brilliant but tragic story has only increased in the years since my initial findings. And the appetite for more well-founded research comes from a global audience of fans of Tudor history. There is a demand to attempt to know how and why the once-glorious love affair between Henry and Anne turned so tragically caustic: why he felt his decision to sign her death warrant was justifiable. And in the lead-up to her beheading on the Tower scaffold, what, if any, communication there might have been between husband and wife––two people who had clearly once loved each other. So, to read and examine this letter, which I propose was most definitely her last attempt to speak with her husband, is to have a very intimate glimpse into Anne's feelings about Henry, and her response to his accusations in her own words. It's a very compelling document, and students of this period in history are finding it riveting.
Can you tell us a little about the letter's provenance?
This point is a strange one, but I will readily acknowledge that, as I began digging and studying the letter, an extremely convincing provenance began to open up. It was as if the letter wrote its own story. It began with the very early inscription that the copy was made from an original found in the private possessions of Thomas Cromwell, King Henry's Secretary and chief minister. Believing the premise that Cromwell was given the letter to deliver to the King, but never did in case Henry read it and decided to release Anne, a story unfolded about who may have found the letter after Cromwell's own execution, and who cared for the letter, handing it from person to person until it remained preserved by Sir Robert Cotton in his collection of rare and important documents. His collection became the foundation of the British Library Archives. The story is so intriguing, yet so logically believable, that I have become ever more convinced of its truth over the years.
Have you continued your research?
There is, of course, much more research to be done on this letter. I have continued to work on it since the publication of my book, and hope to provide additional findings soon. I've spent a great deal of time attempting to find out who actually penned the letter (it's not in Anne's hand), and I believe I have a plausible theory of who was sent to her Tower prison to take her dictation. There is also a very interesting question about the postscript which is recorded on the back of the letter: the phrase is quite famously attributed to Anne, but most do not know it is actually derived from the Tower Letter: "…for raising her first from a mean woman to be a Marquess, next to be his Queen, and now, seeing he could bestow no further honour upoin her on earth, for purposing to make her, by martyrdom, a saint in heaven."
Why do you think the book is doing so well?
It lays bare the conclusion that we are reading Anne's own words to Henry. This letter has been a mystery for 482 years-since its discovery in Cromwell's papers in 1540. Who doesn't like to read and ponder the final appeal from a wronged wife to a husband, the two being at the pinnacle of fame? And at the end of the day, it is the only love letter from Anne to Henry we have. Because it is just that: she clearly tells him of her undying love for him, and her hurt at his betrayal of her loyalty.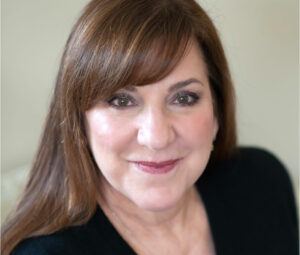 Sandra Vasoli grew up in a suburb of Philadelphia, Pennsylvania, USA. As a child, she developed an abiding interest in objects and stories from a long-ago era: historic houses, antiques, period clothes, and tales from the past. A passionate reader and enthusiastic writer, she also spent her formative years caring for dogs and riding horses; the love of animals factors large in her writing.
She earned degrees in biology and English from Villanova University, and then pursued graduate work in organizational development during her long career in human resources. As a human resources officer for several Fortune 500 global companies, she honed her ability to observe and read the behaviors of people, which contributes to her poignant character development.
After leaving the corporate world, Vasoli wrote and published her debut novel, "Struck With the Dart of Love: Je Anne Boleyn". Uniquely positioned as a Anne Boleyn's memoir, it is the story of the tumultuous relationship between Boleyn and Henry VIII of England. It was followed by "Truth Endures: Je Anne Boleyn".
With a deep appreciation for meticulous research, Vasoli was permitted rare access to the Papal Library at the Vatican, to read and study the original love letters penned in the 16th century by Henry VIII to his second wife, Anne Boleyn. She has also done extensive research in the British Library, viewing the beautiful Book of Hours in which Henry and Anne both inscribed lovers' messages to each other, and documents attributed to a mysterious letter purportedly written by Boleyn while she was imprisoned in the Tower before her execution. The result of that research has been published in "Anne Boleyn's Letter from the Tower – A New Assessment".