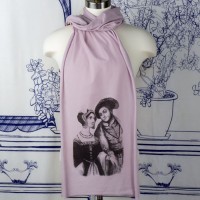 This all-purpose, comfortable Sheer Jersey cotton scarf features on one end a design by Tiffini based on a vintage engraving of Anne Boleyn and Henry VIII and on the other end a snippet from a love letter from Henry to Anne.
He wrote "H. aultre A. B. ne cherse R." drawing her initials inside a heart, meaning " Henry seeks AB, no other".
100% sheer jersey cotton, super soft and stretchy unisex scarf.
This scarf has raw unfinished edges.
Pre-shrunk and laundered. 100% cotton sheer jersey is combed for softness and comfort.
Color: Mauve color with black ink.
Dimensions: 93" x 16" (236cm x 41cm)
Screen Printed meticulously with love by hand in Colorado, USA.
Handmade by Tiffini in Colorado, USA, and shipped worldwide.
People who bought this item also bought
Anne Boleyn Scarf
$19.00
Updating...